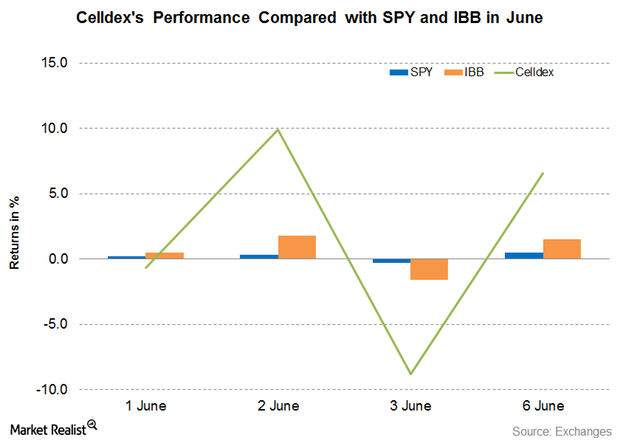 Celldex Rose on Phase 2 Melanoma Data
By Peter Neil

Nov. 20 2020, Updated 4:24 p.m. ET
Celldex announces Phase 2 melanoma data
On June 6, 2016, Celldex Therapeutics (CLDX) was one of the top gainers in the small-cap segment of the iShares Nasdaq Biotechnology ETF (IBB). It rose 6.6% and outperformed the SPDR S&P 500 ETF (SPY), which rose 0.5% for the day. The stock rose after Celldex announced its Phase 2 melanoma data.
In a press release, Celldex announced "results from a Phase 2 clinical study evaluating CDX‑1401 and CDX‑301 in patients with malignant melanoma, which was conducted by the Cancer Immunotherapy Trials Network (CITN) under a Cooperative Research and Development Agreement (CRADA) between Celldex and the Cancer Therapy Evaluation Program of the National Cancer Institute."
Article continues below advertisement
The release went on to say, "CDX‑1401 is an NY‑ESO‑1-antibody fusion protein for immunotherapy, and CDX‑301 (recombinant human Flt3 ligand) is a potent hematopoietic cytokine that uniquely expands dendritic cells and hematopoietic stem cells. Results from the study were presented at the 2016 American Society of Clinical Oncology ([or] ASCO) Annual Meeting in Chicago in a poster titled 'A Phase 2, Open-label, Multicenter, Randomized Study of CDX‑1401, a Dendritic Cell Targeting NY‑ESO‑1 Vaccine, in Patients with Malignant Melanoma Pre-Treated with CDX‑301, a Recombinant Human Flt3 Ligand.'"
Celldex closed at $4.86 and was trading above the 20-day moving average. Celldex has fallen 69% on a year-to-date basis. Its trading volumes were at ~3.7 million shares compared to the three-month average trading volume of ~4 million shares per day.
Celldex has a book value of $2.63 per share. At its current price, the stock is trading at a price-to-book value of ~1.9x. The company has a weight of ~0.1% in IBB's portfolio.
PTC Therapeutics (PTCT) was another stock that performed well, rising 7.6%. The stock bounced back from the previous day's loss of 8.4%. On the other hand, Immunomedics (IMMU) was the most underperforming stock among IBB small-caps, falling 13.7%. We covered this in detail in the first part of this series.
In the final part of this series, we'll see what the moving average trend is for IBB's holdings.