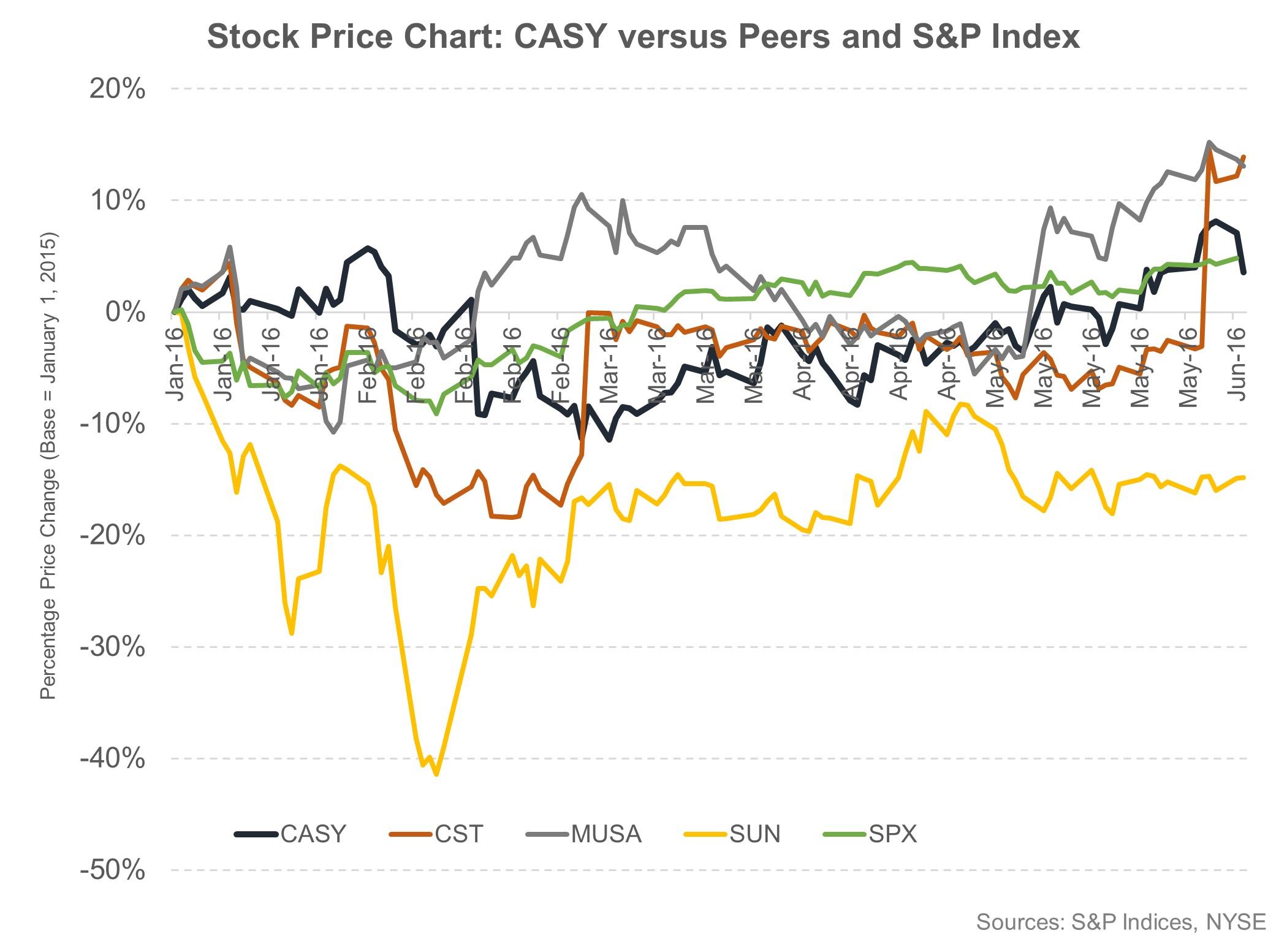 Has Casey's Been a Good Investment for Its Shareholders?
A look at Casey's stock performance compared to its peers'
Casey's General Stores (CASY) registered a 3.2% fall in its stock price on the day following its fiscal 4Q16 results announcement, as the company missed its earnings expectations.
Casey's has risen by 3.6% YTD (year-to-date) as of June 7, 2016. The company is currently trading at $119.72. Its performance is in line with that of the S&P 500 Index, which has risen by 4.8% YTD.
Article continues below advertisement
A look at Casey's dividend payout
Casey's is a consistent dividend payer. It has paid regular dividends since 1991. Despite an unstable earnings environment, the company has increased its dividend per share by ~46% over the last five fiscal years. Casey's stock is currently trading at a forward dividend yield of 10% over the next four quarters.
The company grew its dividends by 10% in fiscal 2016 and paid 88 cents per share in dividends during the year. The company has raised its quarterly dividend payment by 9.1% to 24 cents per share. This dividend will be payable on August 15, 2016.
Casey's is a dividend aristocrat and is included in the holdings of the ProShares S&P MidCap 400 Dividend Aristocrats ETF (REGL). REGL invests in companies that have grown their dividends for at least 15 consecutive years. REGL has around 2.2% of its holdings invested in Casey's.
Casey's boasts the highest total returns among its peers
Casey's consistent performance has yielded high returns for its shareholders. The company's one-year, three-year, and five-year total returns stand at 38%, 25.5%, and 25.7%, respectively. Its performance is better than those of its convenience store and fuel station peers.
Sunoco's, CST Brands', and Murphy USA's one-year total returns stand at -15.7%, 14.5%, and 20.3%, respectively.
Read the next part of this series to learn about the company's earnings forecasts and valuations compared to its peers'.