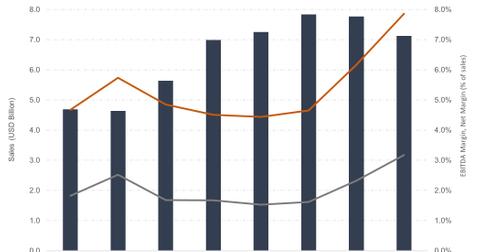 Casey's Earnings Rise despite a Fall in Its Fiscal 2016 Top Line
By Sonya Bells

Updated
Casey's misses estimates despite a 14% earnings rise
Casey's General Stores (CASY) reported a fall of 4.3% in its total sales to $1.6 billion in fiscal 4Q16 as lower fuel prices weighed on the company's top line once again.
Earnings for the quarter, however, rose by 14% as stronger margins offset the effect of lower gasoline prices. Casey's posted net income of $47 million, or $1.19 per share, in fiscal 4Q16 compared to $41.3 million, or $1.05 per share, in fiscal 4Q15. Analysts expected the company to report earnings of $1.22 per diluted share on revenue of $1.6 billion.
Article continues below advertisement
Fiscal 2016 earnings rise 25% despite a 9% top line fall
In fiscal 2016, Casey's recorded net income was $226 million, or $5.73 per share, compared to $180.6 million, or $4.62 per share, in fiscal 2015. The company's revenue fell by 8.3% to $7.1 billion in fiscal 2016 compared to fiscal 2015.
Casey's peers CST Brands (CST) and Murphy USA (MUSA) also reported sales falls of 10% and 25%, respectively, in their last reported quarters.
While talking about the company's performance in fiscal 2016, Terry Handley, president and CEO of Casey's, commented, "Fiscal 2016 was an exciting year for Casey's. We successfully opened our second distribution center in Terre Haute, Indiana, and launched our mobile app in conjunction with rolling out on-line ordering across all our stores."
Handley added, "Total gross profit was up over 12% for the year and the Company is positioned well for continued strong performance in fiscal 2017."
A look at fiscal 2016 store growth
Casey's completed 51 new store constructions and acquired five stores in fiscal 2016. The company missed its own 2016 expansion target of building or acquiring 75–113 stores by a large gap.
Casey's aimed to replace ten existing locations and complete 100 major remodels in 2016. In comparison, it completed 11 replacement stores and did 102 major remodels.
Casey's General Stores is included in the portfolio holdings of the iShares S&P Mid-Cap 400 Growth ETF (IJK) and the SPDR S&P Retail ETF (XRT). IJK and XRT have holdings of 0.36% and 1.3%, respectively, in CASY.