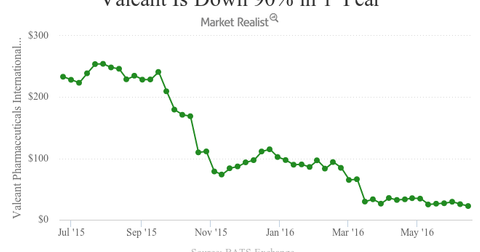 Carl Icahn Wouldn't Invest in Valeant, although Bill Ackman Holds $567 Million in It
By Surbhi Jain

Updated
Icahn's views on Valeant Pharmaceuticals
In an interview with CNBC in early June 2016, billionaire activist investor Carl Icahn discussed Valeant Pharmaceuticals (VRX): "I don't know enough about it to say I would short it, but I definitely would not buy it. I just don't know what—you know, when a company has these problems, I am not smart enough to know how deep they are. And so you wait."
[marketrealist-chart id=1398738]
Article continues below advertisement
Valeant down by 90% in one year
In August 2015, VRX stock was at its historic peak of over $250. It is now below $25, as the stock has lost over 90% in the past year. VRX is one of the most frequently discussed stocks in the market (SPY) (VFINX).
After August 2015, the company's stock has only been trending southward. In September 2015, Valeant's price-gouging scandal was exposed—the company had hiked the prices of two of its drugs by 212% and 525%. This marked the beginning of the plunge in Valeant's stock price.
In October 2015, Citron Research, a California-based short-selling research firm, tweeted that Valeant has a better chance of going down to $0 than anyone else. The firm also accused Valeant of accounting fraud. The tweet came in response to billionaire hedge fund manager Bill Ackman's claim about Herbalife (HLF) stock going down to zero, as he defended his investment in VRX.
Ackman's Pershing Square Capital Management LP had about 6.4% of its entire portfolio invested in Valeant Pharmaceuticals (VRX) in 1Q16. Herbalife (HLF) was up by nearly 10% YTD on June 22, 2016.
Citron Research had accused Valeant of using Philidor, an online pharmacy, to create "phantom sales" of its products. The blow-out only added fuel to the fire, damaging Valeant stock.
Please read Valeant Pharmaceuticals: The Rise and Fall of a Giant for deeper perspective into this healthcare sector (XLV) firm.
The future remains uncertain for Valeant
Valeant (VRX) has a new CEO and business model in place, with several federal and state investigations going on. Although the future of this stock certainly seems uncertain, others believe in the future of the stock.