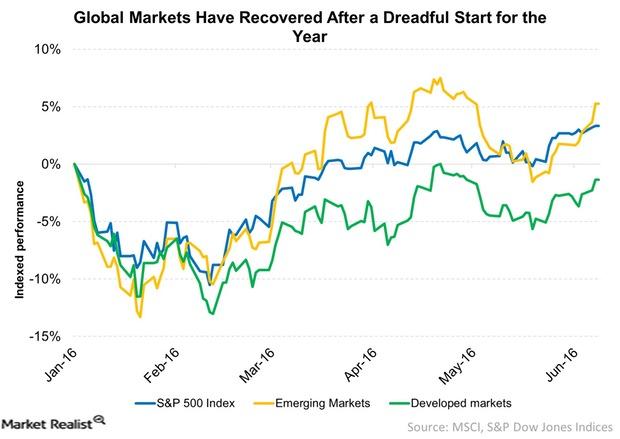 Can Global Markets Continue to Surge?
Another reason for our more cautious stance: the extent of the recent stock market rally. The MSCI World Index is up 14 percent from its mid-February lows, as stocks have shaken off fears of a global recession, an oil-price collapse and a Chinese currency devaluation.
Article continues below advertisement
Market Realist – Can global markets continue to surge?
As you can see in the above graph, global stocks (ACWX) started the year on a terrible note. Investors were spooked by plunging commodity prices and the precarious nature of the Chinese economy, which caused commodity prices to tank. Between January 1 and February 11, the S&P 500 index (IVV)(VOO) corrected by 10.5%, while emerging markets (EEM) and developed markets (EFA) fell 10.2% and 12.9%, respectively.
However, since then, global markets have recovered well. The S&P 500 has risen 15.5%, emerging markets have risen 17.2%, and developed markets have risen 13.2%. This has mainly been on the back of multiple expansion.
Global growth could also be slowing down. In its global economic prospects report published on June 7, 2016, the World Bank projected that the global economy would grow at a slower pace.
With the prospect of slower growth, global stocks face the following risks:
political uncertainties in the United States
possibility of a Brexit (Great Britain exiting the European Union)
possibility of a hard landing for the Chinese (FXI) economy
effectiveness of quantitative easing measures in Japan and the Eurozone
uncertainty of a rate hike in the United States
deteriorating conditions in commodity-oriented nations
Given these headwinds, it's unlikely that global equities will continue the same surge they've seen in the last four months. In the next part, we'll look at this in more detail.