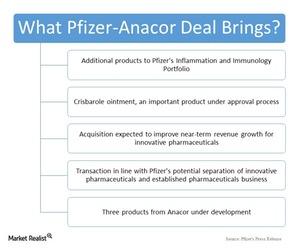 What Can We Expect from the Pfizer-Anacor Deal?
By Mike Benson

Jul. 6 2016, Updated 7:06 p.m. ET
Announcement of the Pfizer-Anacor deal
Pfizer (PFE) announced the acquisition of Anacor Pharmaceuticals (ANAC) on May 16, 2016. The deal closed on June 23, 2016.
Article continues below advertisement
Key highlights of the deal
Below are some key highlights of the merger:
Anacor is valued at $99.25 per share for Anacor's common stock.
Pfizer completed the acquisition through its subsidiary Quattro Merger Sub.
Anacor's products and pipeline are a strong fit for Pfizer's Inflammation and Immunology segment.
The Crisbarole ointment is one of the key products in the pipeline. The FDA (U.S. Food and Drug Administration) accepted the new drug application in March 2016 with a PDUFA (Prescription Drug User Fee Act) goal date of January 2017. Crisbarole is an important development and, if approved, could be an important first-line treatment for atopic dermatitis.
Kerydin, another important product from Anacor, is already approved by the FDA. It's marketed in the United States by Novartis's (NVS) subsidiary Sandoz. Anacor holds rights to the drug, which is used for the treatment of onychomycosis, a type of toenail fungus.
The acquisition of Anacor is expected to increase Pfizer's near-term revenue growth for its innovative pharmaceuticals business segment.
Anacor reported revenues of $17.5 million in its 1Q16 results released on May 10, 2016. Revenues included $14.7 million from distribution and commercialization agreements and $2.8 million from research contracts.
The transaction will also preserve the potential separation of its innovative pharmaceuticals business and established pharmaceuticals business. The Anacor products portfolio will be part of Pfizer's innovative pharmaceuticals business.
Investors can consider ETFs such as the iShares US Healthcare (IYH), which holds ~8.9% of its total investments in Pfizer. It holds ~9.6% of its investments in Johnson & Johnson (JNJ), ~7.6% in Merck & Co. (MRK), and ~6.9% in Bristol-Myers Squibb (BMY).