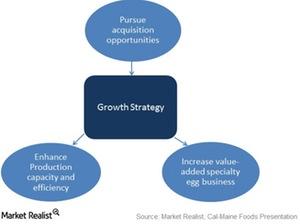 How Does Cal-Maine Plan to Benefit from Its Growth Strategy?
By Sushree Mohanty

Updated
What's Cal-Maine's growth strategy?
Cal-Maine Foods (CALM) has a track record of identifying and completing strategic acquisitions in the past 26 years. Identifying and pursuing acquisition opportunities is part of its growth strategy. The growth strategy also includes enhancing its production capacity and efficiency and increasing its value-added specialty egg business.
The company pursues acquisition opportunities by extending its ability to identify, implement, and integrate additional operations. Cal-Maine plans to develop capabilities in existing markets. The company also plans to broaden its geographic reach by enhancing its national presence and strengthening customer relationships.
Article continues below advertisement
Update on the joint venture with Rose Acre
At the recent Stephens Spring Investment Conference, management discussed that the company is pleased with the progress of the venture with Rose Acre Farms in Texas. They expect it to be completed early next year. The joint venture allowed Cal-Maine to expand its production of cage-free eggs significantly while sharing the costs and risks with an experienced partner. It provides for a capacity of ~1.8 million laying hens. As part of the venture, the initial flock was placed in early November. The company is also on schedule for continued placements until it reaches the full expected capacity by the beginning of fiscal 2017.
Cal-Maine has some major capital projects on hand across its operations. The operations will develop its cage-free capacity. The company expects to meet customer demand and reduce the dependence on spot market purchases through this strategy. It plans new market opportunities from these projects.
Strategy to boost production capacity and efficiency
Consistent with its growth strategy, Cal-Maine has over $160 million in capital projects underway to boost margins. Cal-Maine's gross and operating margins improved slightly in 3Q16—compared to the same period last year.
Projects in Texas, Arkansas, Kansas, and Kentucky are expected to increase the cage-free and organic capacity. Projects in Florida, Texas, and Georgia are projected to improve the non-specialty capacity. A project in Utah is estimated to increase California's capacity to 620,000 hens with a net 345,000 additional hens. This will ultimately be an addition of 2 million more hens to the numbers at the end of the fiscal year.
Cal-Maine's peers
Cal-Maine Foods' peers in the industry include Pilgrim's Pride (PPC), Hormel Foods (HRL), and Tyson Foods (TSN). They reported respective net margins of 3.2%, 10.2%, and 5.0% for their recently reported quarters. Cal-Maine Foods also forms 1.5% of the PowerShares DWA Consumer Staples Momentum Portfolio (PSL). PSL also holds 3.3% in Tyson, 2.2% in Pilgrim's Pride, and 3.2% in Hormel.