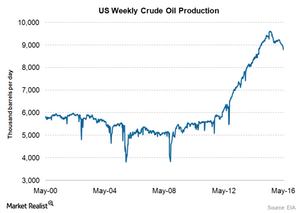 What Are the Bullish Drivers for Crude Oil Prices?
By Gordon Kristopher

Nov. 20 2020, Updated 1:13 p.m. ET
Bullish drivers for crude oil prices  
Let's take a look at some key bullish catalysts for crude oil prices this week and in the past two months.
Article continues below advertisement
Slowing US crude oil production 
In its June Short-Term Energy Outlook report, the EIA (U.S. Energy Information Administration) stated that US crude oil production will decline by 830,000 bpd (barrels per day) to 8.6 MMbpd (million barrels per day) in 2016. It would decline by 410,000 bpd to 8.2 MMbpd in 2017. Meanwhile, US crude oil production fell by 32,000 bpd to 8.7 MMbpd for the week ending May 27, 2016—compared to the previous week. The weekly production fell 9.3% from its peak level of 9.6 MMbpd in April 2016. Read Weekly US Crude Production Tests Lowest Level since 2014 to learn more about US crude oil production. The expectation of slowing production will support crude oil prices.
US gasoline demand  
Weekly gasoline demand rose by 200,000 bpd to 9.7 MMbpd for the week ending May 27—compared to the previous week. Gasoline demand rose by 2% week-over-week and 9% YoY (year-over-year). The EIA estimates that gasoline demand will rise by 1.8% YoY to record levels of 9.3 MMbpd in 2016. This would be the highest annual average gasoline consumption on record. Gasoline demand rose by 2.7% in 2015 to an average of 9.2 MMbpd. Lower retail gasoline prices and better growth in employment in 2016 would increase highway travel. This would lead to a rise in gasoline consumption. Gasoline prices were trading close to 12-year lows in March 2016. This motivated drivers to buy more trucks and sport utility vehicles. These vehicles consume more gasoline than other vehicles. The expectations of a rise in the gasoline demand should support gasoline and crude oil prices. For more on gasoline inventories, see the last part of this series.
Article continues below advertisement
Global supply outages 
Market surveys project global supply outages could be as high as 4 MMbpd. For more on supply outages, read Global Crude Oil Supply Outage Impacts Crude Oil Prices.
Impact on energy companies and ETFs 
Crude oil prices are up more than 90% from the lows in February 2016. The recent surge in crude oil prices benefits oil and gas exploration and production companies like Energy XXI (EXXI), Bonanza Creek Energy (BCEI), and PDC Energy (PDCE). ETFs and ETNs like the United States Brent Oil ETF (BNO), the United States Oil ETF (USO), and the ProShares Ultra Oil & Gas (DIG) are also influenced by volatile crude oil prices.
Read the next part of this series to learn more about bullish drivers for crude oil prices over the long term.