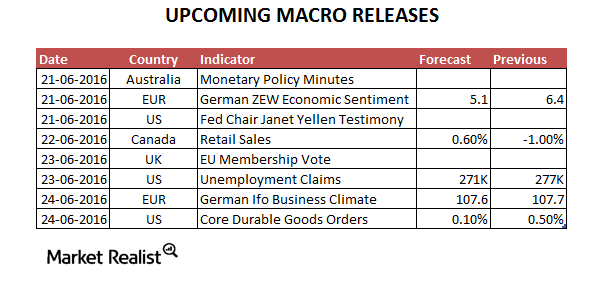 Focus on Brexit, Volatility Expected to Rise in the Coming Week
Brexit to move the markets this week?
The week starting June 20, 2016, will see the markets focus on Europe as citizens of the UK decide whether Brexit should pass in the June 23 referendum. There will be a minimal release of data from the US this week after a jam-packed schedule last week, led by the Federal Reserve meeting.
Among the major data releases, we have the US Core Durable Goods Order report scheduled for June 24. The German Economic Sentiment report is scheduled for June 23, and the German Ifo Business Climate report is scheduled for June 24. These reports are expected to be below the previous month's levels, as Brexit worries loom large.
The pound is expected to trade in a volatile manner this week, with the implied volatility rising. For more details on volatility, please read Spurred by the Brexit, the Pound's Implied Volatility Is Rising.
Article continues below advertisement
Slight rebound in Japanese markets after last week's heavy losses
Critical Asian indexes (AAXJ) were trading higher with the exception of the Dow Jones New Zealand Index (VPL), which fell by 0.62% on June 17, 2016. The rise in the Asian indexes was led by the Japanese index Nikkei 225. The Nikkei had heavy losses through the week as the Japanese yen appreciated on safe-haven demand. There was a slight recovery in the index as the Nikkei rose by 1.1%.
The markets seems to have already priced in a possible Brexit referendum on June 23. There could be a sharp rebound in the markets if the UK decides to remain in the European Union. Among the other major indexes, the Australian (EWA) S&P/ASX 200 rose by 0.32%.
European markets mostly higher as major markets remain range-bound
Major European indexes (DBEU) were trading higher on June 17 as markets prepared for the referendum week. The rise was led by the Italian index FTSE MIB, which rose by a significant 3.5%.
Among the other major indexes, the German DAX and French CAC also posted gains of 0.85% and 0.98%, respectively. The Euro Stoxx 50 (FEZ), a Eurozone blue chip stock index, rose by 0.83%. The United Kingdom's (FKU) FTSE 100 posted gains of 1.2% for the day.