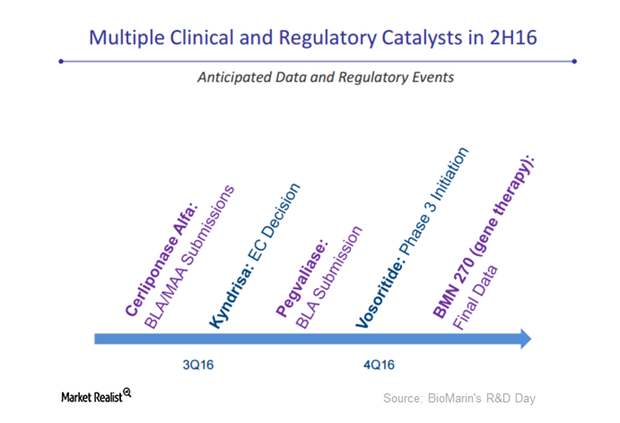 Inside BioMarin's Big Plans for 3Q16
By Jillian Dabney

Dec. 4 2020, Updated 10:53 a.m. ET
Discontinuation of Kyndrisa
BioMarin Pharmaceutical (BMRN) was expecting the European Commission's decision on Kyndrisa in 3Q16. However, it decided to withdraw its MAA (Marketing Authorization Application), given the expectation of a negative decision on the drug. BMRN further intends to discontinue the clinical and regulatory development of Kyndrisa and three other phase-2 candidates, BMN 044, BMN 045 and BMN 053. (For details, check out "BioMarin's Pipeline for Duchenne Muscular Dystrophy.")
Notably, after the FDA (US Food and Drug Administration) rejected Kyndrisa, BMRN's share price fell sharply. (For more details, check out "BioMarin's Share Price Falls on Negative Investor Sentiment.")
Article continues below advertisement
Cerliponase alfa BLA-MAA
Another major expected event for BioMarin in 3Q16 will be Cerliponase alfa BLA (Biologics License Application) and its MAA submission. BMRN plans to file the BLA with the FDA and the MAA with the EMA (European Medicines Agency) by mid-2016.
On May 3, 2016, BMRN announced an accelerated assessment for Cerliponase alfa MAA by the EMA. This will shorten the review procedure for the drug, and EMA's decision on the application is expected in the first quarter of 2017. If approved, BMRN plans to launch the drug in 2017.
Cerliponase alfa, an enzyme replacement therapy, aims to restore TPP1 enzyme activity and treat CLN2 disease. CLN2 is a late infantile form of Batten disease. Its symptoms occur between the age of two and four, and there is no approved treatment for the disease. The estimated incidence of the disease is 0.5 per 100,000 live births.
Biotech exposure
Remember, the success or failure of a pipeline drug is highly unpredictable. So to remain on a comparatively safer side and avoid excessive company-specific risk, you can invest in an ETF like the First Trust NYSE Arca Biotechnology Index Fund (FBT), which has ~3.1% of its total holdings in BioMarin. In this way, you can get limited exposure to BioMarin.
FBT's other major holdings include Medivation (MDVN), Incyte (INCY), and Vertex Pharmaceuticals (VRTX).
We'll discuss BioMarin's key events planned for 4Q16 in the next part.