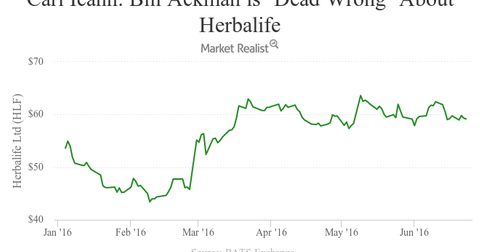 Bill Ackman Is 'Dead Wrong' for Shorting Herbalife, Says Carl Icahn
By Surbhi Jain

Updated
Bill Ackman on Herbalife
Bill Ackman, CEO of Pershing Square Capital Management LP, has been shorting Herbalife (HLF) since 2012. At the time, Ackman had disclosed a short position worth $1 billion, stating his belief that the stock would touch $0.
Despite Bill Ackman's bearish comments on the stock, HLF has gained over 115% since June 22. So far in 2016, the stock has gained over 11%.
[marketrealist-chart id=1399225]
With 27% of Pershing Capital's portfolio allocated to the healthcare sector (XLV) (IBB) in 1Q16, Ackman may be highly critical of Herbalife, but he is certainly fond of a few other healthcare stocks. Drug manufacturers Zoetis (ZTS) and Valeant Phamaceuticals (VRX) command a good 21% and 6.4% of his portfolio, respectively.
Article continues below advertisement
Ackman's thoughts
According to Ackman, Herbalife is nothing more than a pyramid scheme. A pyramid scheme is an investment scam where new members make up the base of the pyramid and provide the funding to the earlier investors above them in a hierarchical setup.
Ackman recently escalated his campaign by releasing another video on his website, alleging that the company makes "false and misleading claims about its fraudulent business opportunity."
In the video, Pershing Square posted statements, alleging that "99% of Herbalife distributors earn less than minimum wage from the company" and that "distributors at the bottom of the pyramid lose their savings to make the dreams of the top 0.1% come true."
Why Carl Icahn does not concur with Bill Ackman
According to activist investor Carl Icahn, "Bill Ackman is completely and totally wrong on this company." Icahn Enterprises is on the board of Herbalife (HLF), and Icahn has expressed positive opinions about the company.
According to Icahn, Ackman is "dead wrong." Icahn's belief in the company is based on his reasoning that the "company creates work for a lot of people, and to say that it doesn't, is ridiculous."
Icahn stands firm on his stance with respect to Herbalife, noting that it is not a pyramid company and that it creates jobs.