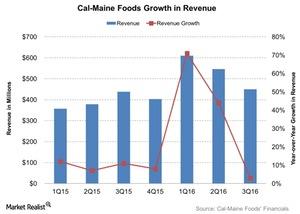 What Benefited Cal-Maine's Strong Revenue Growth in Fiscal 2016?
By Sushree Mohanty

Jul. 12 2016, Updated 9:07 p.m. ET
Revenue growth
Cal-Maine Foods (CALM) started fiscal 2016 with a tremendous increase in sales—compared to the same quarters in fiscal 2015. The company grew 71% in revenue in 1Q16, 44% in 2Q16, and 3% in 3Q16. Year-to-date in fiscal 2016, the company already earned $1.6 billion in revenue—compared to $1.1 billion in the same period last year. Higher average selling prices for eggs and a modest rise in volume contributed to the revenue growth. Egg prices rose due to seasonal high demand.
The company also had revenue growth of 9% in fiscal 2015. It was driven by strong customer demand from three major market sectors—egg products, exports, and retail.
Article continues below advertisement
What drove sales in fiscal 2016?
The company saw strong consumer demand for specialty eggs in fiscal 2016. Specialty eggs contributed to 27.1% of the total shell eggs revenue in the first quarter, 28.8% in the second quarter, and 31% in the third quarter.
In 2015, the egg industry was impacted by avian influenza outbreaks. This resulted in reduced hen supply and various other market disruptions. The company reported that the supply is recovering.
As reported in the most current hatch report issued on May 23 by the U.S. Department of Agriculture, the hen inventory was up 2.5 million—compared to the same period in 2015. However, it was down 6.2 million—compared to 2014. Demand trends were favorable until the third quarter despite the supply disruption.
However, seasonally lower demand during the summer is expected to cause some disruptions in egg prices and revenue for the last quarter of fiscal 2016. Revenue is expected to decline by 25% to $301.25 million for 4Q16—compared to $403.01 million in 4Q15. However, the fiscal revenue growth expectations are positive. Cal-Maine Foods is optimistic that with a strong balance sheet and benefits from acquisitions, it's positioned to cope with the seasonal losses. The company thinks that it will come out strong.
Cal-Maine's sales profile
Cal-Maine Foods' sales profile accounts for 90% of its sales going to retail channels, 7% to foodservice, and 3% to egg products. The company's top four customers account for ~51% of its sales.
Walmart (WMT) and Sam's Club hold ~26% of sales.
HEB, a grocery store company in Texas, holds 9% of sales.
CCF Brands, one of Walmart's suppliers, holds 8%.
Publix Super Markets, located in Florida and along the East Coast, holds 8%.
Cal-Maine's other peers in the food industry such as Tyson Foods (TSN) and Pilgrim's Pride (PPC) reported declining revenue growth of 8% and 4%. Hormel Foods (HRL) had revenue growth of 1% for its last reported quarter. To invest in these stocks, you can consider the PowerShares Dynamic Food & Beverage ETF (PBJ). It invests 4.9% in Tyson, 5% in Hormel, and 2.5% in Cal-Maine. The iShares Morningstar Mid Value ETF (JKI) invests 1.3% in Tyson Foods.