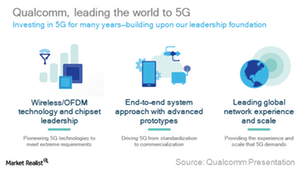 Behind Qualcomm's Low Band Tests in 5G Technology
By Puja Tayal

Updated
Qualcomm's efforts in 5G
We've already discussed Qualcomm's (QCOM) efforts in the IoT (internet of things) space. An integral part of IoT is the fifth generation wireless technology 5G, and Qualcomm is at the forefront of this space, already developing millimeter wave frequency bands between 28 GHz (gigahertz) and 65 GHz for 5G. The 5G technology is at a nascent stage, and the industry has not yet designed a mobile standard for 5G till now.
We've also discussed how Qualcomm recently achieved 3GPP (3rd Generation Partnership Project) standardization for two of its LTE (long term evolution) technologies for IoT. Now, the company aims to achieve 3GPP standardization for its 5G technology.
Article continues below advertisement
Qualcomm tests sub-6GHz 5G technology
Recently, Qualcomm announced that it has developed a lower-spectrum "sub-6GHz" testbed for 5G in order to allow "for flexible deployments with ubiquitous network coverage." The sub-6GHz prototype system comprises user equipment and a base station to test the 5G NR (New Radio) capabilities. The company claims that the testbed supports more than 100 MHz (megahertz) radio channels and can deliver "multi-gigabit per second data rates" with low latency.
With this, the company aims to achieve 3GPP standardization for OFDM-based (orthogonal frequency division multiplexing) 5G NR air interface.
Qualcomm said, "The prototype system will closely track 3GPP progress to help achieve timely 5G NR trials with mobile operators, infrastructure vendors." The company is working with China Mobile Communications (CHL) and Verizon (VZ) to develop the 5G technology.
Samsung tests 28GHz 5G
Samsung (SSNLF) is moving fast in the 5G space and aims to be among the top three 5G technology providers. It has developed a 28GHz 5G testbed which is not based on OFDM and is conducting 5G trials with US-based Verizon and South Korea-based (EWY) SK Telecom (SKM).
Verizon plans to begin 5G trials on US home broadband services in 2017 and SK Telecom plans to trial a 5G service for the 2018 Winter Olympics in South Korea.
While Qualcomm is focusing on standardizing its OFDM technology, Samsung is looking to bring its 5G equipment in the market. Samsung aims to earn over $8.6 billion in annual revenue from 5G equipment by 2022.
The first 5G mobile standards are unlikely to arrive before 2020. With 5G will come the need for more power-efficient and flexible data centers. Like IoT, Qualcomm is looking to use ARM architecture to design server chips.
Now let's look at Qualcomm's efforts in the data center space.