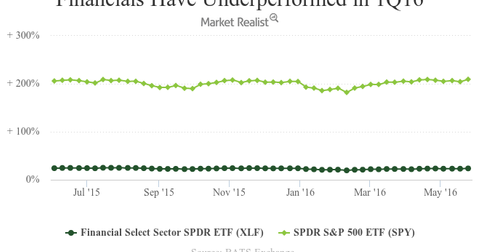 Why Have Banking Stocks Underperformed in 2016?
By Rebecca Keats

Jun. 8 2016, Updated 11:07 a.m. ET
US bank stocks underperformed in 1Q16
Given the strong balance sheets, capital levels, and stricter regulations, US banks are better prepared to withstand another recession like the recession in 2009. However, investors dumped banking stocks in the first three months of the year amid global growth concerns, falling oil prices, and a low-interest rate outlook for the year ahead. However, as growth increased, prospects grew for a rate hike in June. This led to optimism among investors in the financial sector. They have been buying into banks.
[marketrealist-chart id=1352883]
Article continues below advertisement
The Financial Select Sector SPDR ETF (XLF) has lost 1% of its value YTD (year-to-date). Banks account for ~48% of XLF. Comparatively, the SPDR S&P 500 ETF (SPY) gained 2.4% during the same period. Fundamentally, US banks' asset base remains strong as the first quarter earnings are announced. Banks are focusing on building their balance sheets, reducing operating expenses, and enhancing asset quality. However, loan losses grew compared to previous quarters—driven by the beaten down energy sector.
Let's see how stocks of the biggest banks have performed so far.
Wells Fargo (WFC) is the largest mortgage loan provider. It's down 6.9% YTD. Since the lows in 2009, the value of the stock has nearly tripled.
Shares of Bank of America (BAC) have nearly doubled since 2009. So far in 2016, the stock underperformed the banking sector. It has lost nearly 12.4% of its value in 2016.
J.P. Morgan (JPM) shares are down 1.2% YTD. Since the 2009 crisis, the company's shares have nearly doubled its value.