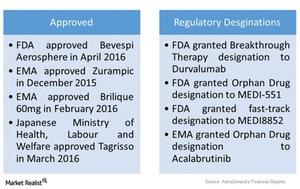 AstraZeneca's Recent Products: Approvals and Designations
By Mike Benson

Jun. 8 2016, Updated 1:05 p.m. ET
Recent product developments
Four of AstraZeneca's (AZN) drugs have recently received approval from regulatory authorities. Four other drugs received regulatory designations. Let's look first at the approved drugs.
Article continues below advertisement
Approved drugs
The four drugs that were recently approved by regulatory authorities are Bevespi Aerosphere in the United States, Zurampic and Brilique in Europe, and Tagrisso in Japan.
Bevespi Aerosphere – Bevespi Aerosphere is a twice-daily dual bronchodilator. It's used as a maintenance treatment for patients with COPD (chronic obstructive pulmonary disease), including bronchitis and emphysema. The drug was approved by the FDA (U.S. Food and Drug Administration) in April 2016. Approval was based on the Pinnacle study that demonstrated the superiority of the drug over its mono-components.
Zurampic – Zurampic is a combination drug used with a xanthine oxidase inhibitor for the treatment of hyperuricemia. AstraZeneca received approvals for European markets in December 2015. In April 2016, the company transferred exclusive marketing rights for Zurampic in US markets to Ironwood Pharmaceuticals (IRWD).
Brilique – AstraZeneca received marketing authorization for Brilique's 60 mg (milligram) dose in the European Union in February 2016. According to an AstraZeneca press release, "The European Commission has granted marketing authorisation for Brilique (ticagrelor) at a new 60mg dose for the treatment of patients who have suffered a heart attack at least one year prior and are at high risk of developing a further atherothrombotic event."
Tagrisso – Tagrisso is an oncology drug already approved in US and European markets. It received approval for Japanese markets in March 2016.
Drugs receiving regulatory designations
AstraZeneca's four drugs that recently received regulatory designations are durvalumab, acalabrutinib, MEDI-551, and MEDI8852. Let's take a closer look at them below:
durvalumab – The FDA granted breakthrough therapy designation to durvalumab for the treatment of patients with PD-L1 positive metastatic urothelial bladder cancer, based on clinical data from Study 1108, a Phase I-II trial.
acalabrutinib – In February 2016, the European Medicines Agency granted orphan drug designation to acalabrutinib for the treatment of chronic lymphocytic leukemia and lymphoma.
MEDI-551 – AstraZeneca's MedImmune was granted orphan drug designation by the FDA for MEDI-551 for the treatment of patients with neuromyelitis optica. The drug is currently in a Phase II clinical study.
MEDI8852 – The FDA has granted fast track designation to MEDI8852 for the treatment of influenza with type-A strains. The drug is currently in a Phase IIb clinical study.
To divest your risk, you can consider the VanEck Vectors Pharmaceutical ETF (PPH), which holds ~4.6% of its total assets in AstraZeneca. You can also consider the First Trust Value Line Dividend ETF (FVD), which holds ~0.5% of its total assets in AstraZeneca. PPH also holds 5.3% in Johnson & Johnson (JNJ), 5.3% in Novartis (NVS), and 5.6% in Pfizer (PFE).