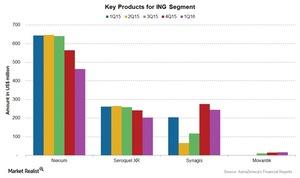 Why AstraZeneca's 2nd-Largest Segment Lost Market Share
By Mike Benson

Updated
The ING segment
The infection, neuroscience, and gastrointestinal (or ING) segment is AstraZeneca's (AZN) second-largest segment. However, with lower sales of blockbuster drugs Nexium and Seroquel, the contribution of this segment declined to ~21.2% in 1Q16. Overall, the segment's revenues declined by ~13% at constant exchange rates during the quarter.
Let's look as some of the key products in the ING segment and their performances.
Article continues below advertisement
Seroquel XR
Seroquel XR is a neuroscience medicine used to treat schizophrenia. Seroquel XR reported a 21% decline in 1Q16 revenues at constant exchange rates due to competition from generic products, mainly in European markets.
Seroquel competes with other schizophrenia drugs such as Zyprexa from Eli Lilly (LLY), Abilify from Bristol-Myers Squibb (BMY), and Invega from Johnson & Johnson (JNJ).
Nexium
Nexium, one of AstraZeneca's blockbuster drugs, is a gastrointestinal medicine used to treat acid-related disorders. US patents for Nexium expired in February 2015. The drug reported a 24% decline in revenues at constant exchange rates to $463 million in 1Q16. That included a 42% decline in US revenues, a 16% decline in European sales, a 9% decline in emerging markets, and a 24% decline in Japan.
Nexium revenues will decline further until the drug absorbs the effects of its patent expiration and pricing pressures due to generic competition. This will further lower revenues for the ING segment in 2016.
New drugs
New drugs in the ING segment include Synagis and Movantik. Synagis is used to prevent infections in lungs and breathing tubes of infants and children. It's sold mainly in European markets. Movantik is a drug used to treat opioid-induced constipation in adults.
For 1Q16, Synagis reported a 20% increase at constant exchange rates, following a 1% decline in US sales due to lower demand. Movantik was launched in March 2015, with the majority of sales in the United States. In 2015, the company signed a co-commercialization agreement for Movantik with Daiichi Sankyo. FluMist/Fluenz reported a 29% decrease in revenues due to lower sales.
To avoid risk, you can consider the iShares MSCI United Kingdom ETF (EWU), which holds 3.5% of its total assets in AstraZeneca.
In the next part of the series, we'll look at Symbicort and Pulmicort, which are part of AstraZeneca's growth platform.