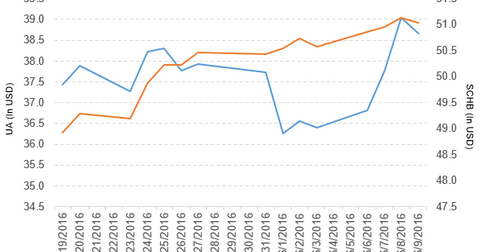 Dombrow Returns to Under Armour as Chief Design Officer
By Gabriel Kane

Updated
Price movement of Under Armour
Under Armour (UA) has a market cap of $7.1 billion. It fell by 0.97% to close at $38.66 per share on June 9, 2016. The stock's weekly, monthly, and year-to-date (or YTD) price movements were 5.7%, -1.1%, and -4.1%, respectively, on that day. This means that UA is trading 3.4% above its 20-day moving average, 5.0% below its 50-day moving average, and 10.0% below its 200-day moving average.
Article continues below advertisement
Related ETF and peers
The Schwab US Broad Market ETF (SCHB) invests 0.05% of its holdings in Under Armour. SCHB tracks a cap-weighted index that measures the largest 2,500 stocks in the United States. The YTD price movement of SCHB was 4.1% as of June 9, 2016.
The market caps of Under Armour's competitors are as follows:
Dave Dombrow returns to Under Armour
In a press release on June 9, 2016, Under Armour stated, "Dave Dombrow, former Under Armour Senior Vice President, Creative Footwear and Accessories, will return to the brand as Chief Design Officer, beginning August 1, 2016. In his newly created role as Chief Design Officer, Dombrow will guide the design of Under Armour's entire collection of footwear, apparel and accessories."
Standard & Poor's has rated Under Armour BBB- (investment grade). This rating comes after Under Armour sold $600 million in bonds in its first offering. The net proceeds from this offering will be used to repay debt under the company's revolving credit facility. Standard & Poor's has given Under Armour a stable rating outlook.
Article continues below advertisement
Performance of Under Armour in 1Q16
Under Armour (UA) reported 1Q16 net revenues of $1.1 billion, a rise of 30.2% over its 1Q15 net revenues of $804.9 million. Revenues from its Apparel, Footwear, Accessories, Licensing, and Connected Fitness segments rose by 20.0%, 64.2%, 26.2%, 14.7%, and 119.4%, respectively, between 1Q15 and 1Q16.
The company's cost of goods sold as a percentage of net revenue and income from operations rose by 1.9% and 26.0%, respectively, from 1Q15 to 1Q16. In 1Q16, its net income and EPS (earnings per share) rose to $19.2 million and $0.04, respectively, compared to $11.7 million and $0.03, respectively, in 1Q15.
Under Armour's cash and cash equivalents and inventories rose by 20.9% and 6.6%, respectively, between 4Q15 and 1Q16. In 1Q16, its current ratio fell to 2.9x, and its debt-to-equity ratio rose to 0.85x. That compares to a current ratio and debt-to-equity ratio of 3.1x and 0.72x, respectively, in 4Q15.
Projections
For 2016, Under Armour (UA) has issued the following revised projections:
net revenues: ~$4.9 billion
operating income: $440 million–$445 million
interest expense: ~$35 million
effective tax rate: ~38.5%
fully diluted weighted average shares outstanding: ~446 million of the Class C stock dividend
For 2Q16, Under Armour (UA) has issued the following revised projections:
an impairment charge of ~$23 million related to the closing of retailer Sports Authority
revenue growth in the high 20% range
operating income of $17 million–$19 million
tax rate of ~70%
These projections include the bankruptcy and liquidation of the Sports Authority retail chain.
In the next part, we'll take a close look at Visteon.