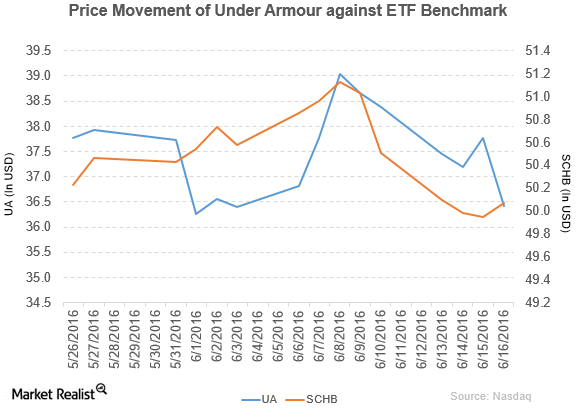 Under Armour Announced Final Distribution Ratio
Under Armour's price movement
Under Armour (UA) has a market cap of $15.4 billion. It fell by 3.6% to close at $36.42 per share on June 16, 2016. The stock's weekly, monthly, and YTD (year-to-date) price movements were -5.8%, -1.3%, and -9.6%, respectively, on the same day. UA is trading 3.1% below its 20-day moving average, 9.6% below its 50-day moving average, and 14.8% below its 200-day moving average.
Article continues below advertisement
Related ETF and peers
The Schwab US Broad Market ETF (SCHB) invests 0.05% of its holdings in Under Armour. The ETF tracks a market cap–weighted index that measures the largest 2,500 stocks in the United States. SCHB has risen 2.1% YTD as of June 16.
The market caps of Under Armour's competitors are as follows:
Under Armour announced final ratio
Under Armour has declared a $59 million dividend to shareholders of its Class C nonvoting common stock. This is to satisfy the settlement agreement with shareholders related to the creation of the Class C stock. The company will pay the dividend in the form of additional shares of Class C stock, with cash in lieu of any fractional shares. The shares will be distributed on or around June 29, 2016, to shareholders of record at the close of business on June 15, 2016.
Under Armour determined the final distribution ratio as 0.007098 of a share of Class C stock for each share of Class C stock held.
Article continues below advertisement
Under Armour's performance in 1Q16
Under Armour (UA) reported 1Q16 net revenue of $1.1 billion, a rise of 30.2% compared to net revenue of $804.9 million in 1Q15. Revenues from its Apparel, Footwear, Accessories, Licensing, and Connected Fitness segments rose by 20.0%, 64.2%, 26.2%, 14.7%, and 119.4%, respectively, in 1Q16 compared to 1Q15.
The company's cost of goods sold as a percentage of net revenue and income from operations rose by 1.9% and 26.0%, respectively, in 1Q16 compared to 1Q15.
In 1Q16, UA's net income and EPS (earnings per share) rose to $19.2 million and $0.04 from $11.7 million and $0.03, respectively, in 1Q15.
Under Armour's cash and cash equivalents and inventories rose by 20.9% and 6.6%, respectively, in 1Q16 compared to 4Q15. Its current ratio fell to 2.9x from 3.1x, and its debt-to-equity ratio rose to 0.85x from 0.72x in 4Q15.
Projections
For 2016, Under Armour (UA) has issued the following revised projections:
net revenues: ~$4.9 billion
operating income: $440 million–$445 million
interest expense: ~$35 million
effective tax rate: ~38.5%
fully diluted weighted average shares outstanding: ~446 million, reflecting the Class C stock dividend
For 2Q16, Under Armour (UA) has issued the following revised projections:
an impairment charge of ~$23 million related to the closing of retailer Sports Authority
revenue growth in the high 20% range
operating income of $17 million–$19 million
tax rate of ~70%
These projections include the bankruptcy and liquidation of the Sports Authority retail chain.
In the next part of this series, we'll take a look at Whirlpool.