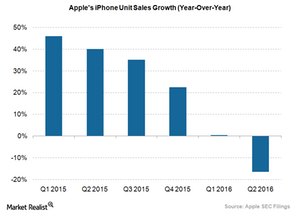 Why Is Apple Still Confident about iPhone's Growth?
By Puneet Sikka

Jun. 28 2016, Published 7:10 p.m. ET
Apple iPhone sales have continued to decline
The iPhone segment continues to be the most important business for Apple (AAPL). It accounted for 65% of the company's overall revenues in the last quarter. However, iPhone unit sales declined by 16% on a YoY (year-over-year) basis to 51.2 million from 61.2 million.
Article continues below advertisement
Apple has reasons to be optimistic about iPhone's growth
The chart above shows the continuous decline in iPhone unit sales growth. Despite this decline, Apple maintains that iPhone fundamentals are intact and there were a number of encouraging signs in the last quarter.
First, although the iPhone upgrade cycle for the iPhone 6S was shorter than the iPhone 6's cycle last quarter, it was better than the iPhone 5S's. Apple also believes that since most of the demand-supply imbalance of the iPhone 6 was met in the June quarter last year, it is difficult to compare with the iPhone 6S. iPhone sales grew by a tremendous 40% in the June quarter last year.
Second, Apple believes that there is a number of customers switching from Google (GOOG) Android operating system to Apple's. Apple mentioned that it added more switchers from Android and other smartphone operating systems such as Microsoft (MSFT) and BlackBerry (BBRY) in the first six months of fiscal 2016 than ever before.
Third, Apple continues to attract first-time buyers, especially in emerging markets. Apple stated that its iPhone sales in India (EPI) grew by an impressive 56% YoY in the last quarter. The company is optimistic that the lower-priced iPhone SE will find favor among Indian consumers.
Although we could continue to see a decline in iPhone sales on a YoY basis in the June quarter and possibly the September quarter, Apple's iPhone 7 release, set for this year's holiday season, will be critical.