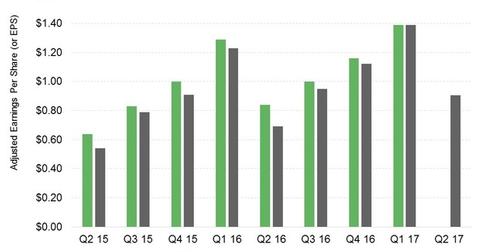 What Are Foot Locker's Future Earnings Growth Expectations?
By Phalguni Soni

Updated
Is Foot Locker's profitability slated to rise?
Foot Locker (FL) is expecting to enhance its profitability over the coming years. As part of its long-term five-year plan, the retailer (XLY) expects to increase its profitability margins. Foot Locker expects to earn a net income margin of 8.5% by fiscal 2021. It was 7.3% in fiscal 2016. The retailer's operating income margin is expected to rise about 120 basis points to 12.5% over the same period.
In fiscal 2017, Foot Locker still expects to increase gross margins by 10–30 basis points, despite headwinds on the freight costs side.[1. based on comments by Lauren Peters, Foot Locker's executive vice president and chief financial officer]
Article continues below advertisement
Earnings outlook
Part of the increase in Foot Locker's profitability margins will likely be from higher sales growth and store productivity. Its revamped model is looking at a more premium customer experience and higher apparel sales, which could benefit the company's bottom line.
However, higher freight expenses for online sales and higher investments in new stores, IT (information technology), and digital systems could weigh down earnings at least in the near term.
In fiscal 2017, Foot Locker's management expects the company to post double-digit growth in EPS (earnings per share).[2. based on comments by Peters] According to Wall Street analyst consensus, Foot Locker is expected to post adjusted EPS of $4.73, a 10% rise from the previous year.
In the first quarter of fiscal 2016, FL posted an increase in EPS of 7.8%. EPS is expected to increase 7.6% in the second quarter, according to Wall Street analyst consensus. Let's compare that to FL's peers:
Finish Line (FINL) expects to post EPS of $1.50–$1.56 in fiscal 2017. Analysts expect EPS to be at the higher end of the guidance range at $1.54, implying an increase of 27.3% over fiscal 2016.
Cabela's (CAB) expects to increase its EPS at a high-single-digit to low-double-digit rate in 2016. Analysts expect the company's EPS to be $3.19, a projected increase of 10.8% over 2015.
DSW (DSW) has dialed down its previously provided guidance for fiscal 2017. It expects to have adjusted EPS of $1.32–$1.42. That compares to $1.54 in fiscal 2016. Wall Street analyst consensus is that the company's EPS will be $1.36, implying a decline of 11.7%.