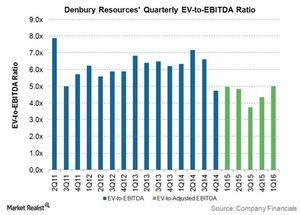 Analyzing Denbury Resources' Enterprise Multiple
By Nicholas Chapman

Jul. 12 2016, Updated 5:04 p.m. ET
Denbury Resources' enterprise multiple
In 1Q16, Denbury Resources' (DNR) EV-to-adjusted EBITDA (enterprise value to earnings before interest, tax, depreciation, and amortization) ratio was ~5x, which was lower compared to its historical average of ~6x over the last five years.
DNR's EV-to-EBITDA ratio was higher in 1Q16, mainly due to its increased EV and a much steeper fall in its EBITDA in the same period.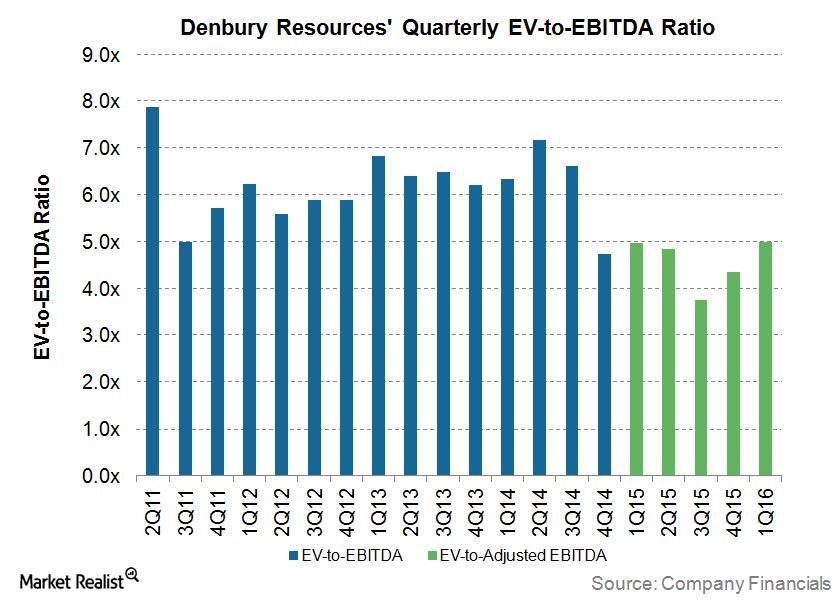 Other upstream companies within the S&P 500 (SPY) such as Occidental Petroleum (OXY), Pioneer Natural Resources (PXD), and Murphy Oil (MUR) have enterprise multiples of ~12x, ~17x, and ~6.9x, respectively.
Denbury Resources' forward EV-to-EBITDA multiple is ~13x, which is higher than its own historical average of 6x. For 2016, Wall Street analysts estimate Denbury Resources' EBITDA to be ~62% lower YoY (year-over-year) at ~$350 million.
Article continues below advertisement
The enterprise multiple
The EV-to-EBITDA ratio is also called the enterprise multiple, and it's preferred over the PE (price-to-earnings) ratio, especially for upstream companies, because it takes into account a company's debt.
In the enterprise multiple, enterprise value is the summation of market capitalization and market value of debt minus total cash and cash equivalents.
Denbury Resources' proved reserves
As of December 31, 2015, Denbury Resources' proved reserves totaled ~289 million boe (barrels of oil equivalent), a fall of ~126 million boe (or ~29%) from December 31, 2014. As of December 31, 2015, ~98% of DNR's proved reserves consisted of crude oil and ~2% of natural gas. All of DNR's proved reserves are located in the United States.
According to DNR's 2015 annual report, the discounted value of its reserve base at the end of 2015 was ~$2.3 billion.