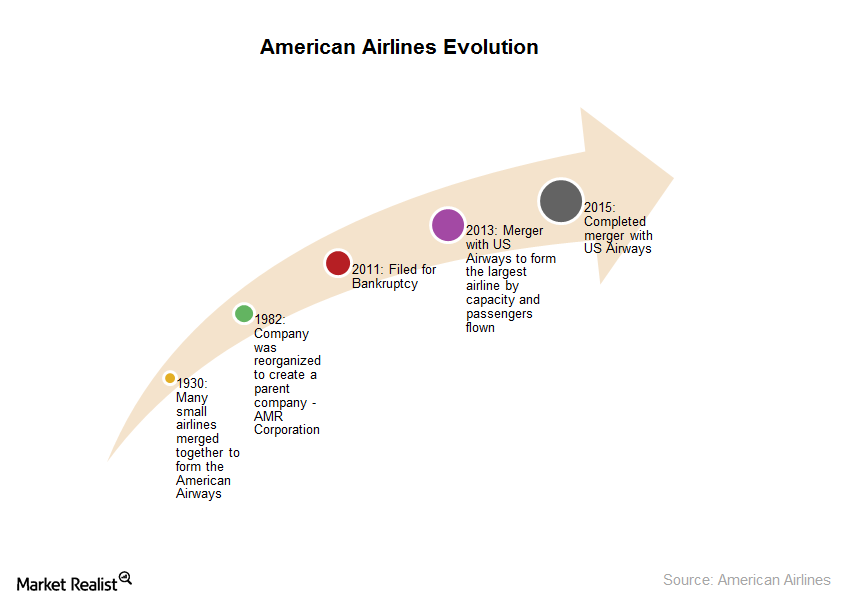 American Airlines Group: Its Beginnings and Its Evolution
By Ally Schmidt

Jun. 15 2016, Published 1:40 p.m. ET
The beginnings of American Airlines
After the first flight by the Wright Brothers in 1903, many small courier companies formed in the United States. In 1929, the Aviation Corporation started acquiring many of these small companies and ended up with nearly 80 of them. In 1930, these companies merged to form American Airways, which changed its name to America Airlines in 1934.
Article continues below advertisement
The forming of AMR Corporation
In 1982, American Airlines reorganized to create a parent company called AMR Corporation. AMR later became a holding company for many commercial aviation businesses such as American Airlines, American Eagle Airlines, AmericanConnection, and Executive Airlines.
The 2011 bankruptcy
In early 2001, AAL acquired bankrupt TWA (Trans World Airlines). The deal, however, left American Airlines with a huge debt, old airplanes, and many employees. The terrorist attacks on September 11, 2001, involved the hijacking of two AAL airplanes. This added to the company's woes. It reported losses for nine of the next 11 years. On November 29, 2011, American Airlines filed for Chapter 11 bankruptcy protection with $4 billion of cash.
Article continues below advertisement
The merger with US Airways
In January 2012, US Airways Group expressed its interest in taking over American Airlines. On February 14, 2013, AMR Corporation and US Airways Group officially announced their merger for about $11 billion.
This decision was challenged by other airlines, and the United States Department of Justice (or DOJ) filed a lawsuit against the two companies. We'll take a closer look at that in the next part of the series.
American Airlines Group
The merger of AMR Corporation and US Airways Group was finally completed in 2015. The merged companies were called American Airlines Group. It's the world's largest airline today. It has the highest airline industry market share of 19% as measured by revenue passenger miles (or RPMs). Below are the market shares of some other airlines:
Some of American Airlines' key hubs are at Charlotte, Chicago, Dallas–Fort Worth, Los Angeles, Miami, New York, Philadelphia, Phoenix, and Washington, D.C.
American Airlines forms 2.8% of the iShares Dow Jones Transportation Average ETF (IYT).
Next, let's see how American Airlines recovered from its 2011 bankruptcy.