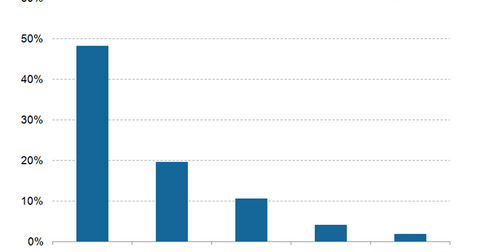 Why Amazon's Prime Video Is More than Just a Perk
By Amit Singh

Jun. 16 2016, Updated 10:04 a.m. ET
Amazon is now a serious player in video-streaming services
Earlier, we discussed how Amazon's (AMZN) Prime membership is helping the company to retain customers by offering several perks.
Amazon's video streaming service, known as Prime Video, has evolved into a major subscription-based video streaming service provider. It has also helped the company to increase the number of Prime users who are more valuable customers.
More recently, Amazon announced a new pricing scheme for its Prime video subscription. Amazon is now offering its video streaming service separately from its Prime free-shipping program. Subscribers can now separately purchase Prime Video for $8.99 per month, $1 cheaper than Netflix's basic plan.
The chart above explains why Amazon's progress in the video-streaming service means trouble for some other services in this space.
According to a Digitalsmiths 4Q15 video trend report, Amazon's Prime has ~20% market share in the OTT (over-the-top) market. Netflix (NFLX) leads the OTT market with a share of 48%. Hulu, Time Warner's (TWX) HBO Now, and CBS All Access are smaller players in this market.
Article continues below advertisement
Amazon's Prime Instant Video expansion initiatives
Amazon has taken several initiatives to expand its Prime Instant Video service. Amazon has introduced its Streaming Partners Program, an OTT streaming subscription program. Under this program, Amazon has partnered with around 20 media companies, including CBS (CBS), Showtime, Starz, and A&E Network.
The company has also launched the Video Direct service, through which content creators can upload videos for Prime members and earn royalties. This service directly challenges YouTube's business.
Amazon's focus on original content to popularize its Prime Video service has paid off well. The company has managed to increase the viewing hours of its Prime Video service. It has also produced some successful original series, such as Transparent and The Man in the High Castle. It continues to invest in more original shows while entering new markets such as Japan (EWJ).