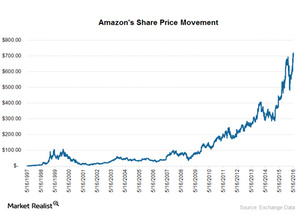 How Amazon Established Itself in the Retail and Technology Market
By Amit Singh

Updated
A look at Amazon's history
Founded in 1994 by Jeffrey Bezos, Amazon (AMZN) is a leading e-commerce and cloud computing company. Amazon opened its virtual doors to the world in July 1995 by selling books online. At that time, few would have believed that Amazon would give big names such as Walmart (WMT), Microsoft (MSFT), and Google (GOOG) runs for their money.
Today, Amazon sells almost anything and everything. However, Amazon isn't just a company selling goods online. It's also evolved into a leading cloud services provider. It offers advertising services and entertainment, and it could possibly become the biggest disruptive force in the transportation and logistics industry.
Article continues below advertisement
How Amazon survived while many of its counterparts failed
Amazon went public in 1997 and raised $54 million through the initial public offering process. Many dot.com companies in that era popped up and generated a lot of buzz, but most of them failed.
Amazon, on the other hand, had a clear business strategy and managed to survive because it was successful in creating value for its customers.
Amazon's customer-centric business model and its long-term approach to growth and the expansion of its business and offerings helped it not only to survive but also to clock incredible growth.
The company continued to increase its investments in the right areas and expanded into emerging markets (EEM). Importantly, the company isn't afraid of transforming itself and innovating.