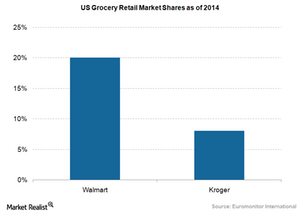 Amazon Continues to Expand Its Online Food Delivery Service
Amazon recently expanded its one-hour food delivery service to Manhattan and Dallas
Amazon (AMZN) has become a serious player in the online food delivery service. A few days back, Amazon expanded its one-hour food delivery service to Manhattan and Dallas, as per its press release. The company had already launched this service in Seattle, Portland, Austin, and several other cities.
Amazon's aggressive intent in this space is creating competitive issues for the leader in the online food delivery market, GrubHub (GRUB). GrubHub has been trying to grow in this market by acquiring smaller companies. It acquired leading online food aggregator Seamless in 2013. It then acquired smaller companies such as DiningIn and Restaurants on the Run. Incidentally, Google (GOOG) is another major player that expanded its Google Express service early this year to include same-day delivery of fresh groceries.
Article continues below advertisement
Food delivery market is becoming important in China as well
Amazon already offers its AmazonFresh service for delivering groceries in select cities in the United States. Through these initiatives, Amazon is clearly looking to leverage the huge US food retail market. According to a report from Euromonitor International, and as the chart above shows, Walmart (WMT) and Kroger (KR) lead the US grocery retail market.
The online delivery market expansion is not only limited to the US. In China (FXI), the largest Chinese e-commerce player, Alibaba (BABA), and its affiliate Ant Financial announced that they will invest $1.3 billion in Chinese food delivery player Ele.me. Through this investment, Alibaba is trying to catch up with rival Tencent (TCEHY) in this market. Last year, Alibaba and its affiliate also invested $483 million in the Chinese food service company Koubei.