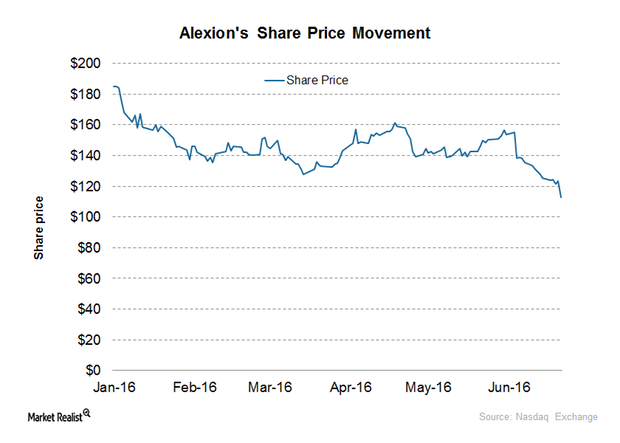 Why Did Alexion Fall after Brexit?
What will the impact of Brexit be on Alexion's sales?
Following Brexit, global equity markets experienced a crash. Anticipations of weaker European and British economies are likely reasons for the fall.
Alexion Pharmaceuticals (ALXN) fell sharply to $112.99, translating to a single day's fall of 9% on June 24, 2016. We'll discuss the potential reasons for the fall in this article.
Article continues below advertisement
What might have triggered a fall for Alexion?
A major factor causing turmoil for Alexion following Brexit could be the high amount of revenue it garners from Europe. Europe's contribution to ALXN's total revenue was ~32% in fiscal 2015. Before fiscal 2015, Europe was the largest market for Alexion.
However, in fiscal 2015, contributions from the United States rose to 37% of ALXN's total revenue, making it the largest contributor. For detailed information on ALXN's geography-wise sales, you can refer to Alexion Pharmaceuticals' Key Geographic Markets.
Britain's exit from the European Union could result in a weaker euro and British pound. This could impact pharmaceutical companies directly, as drug prices and the reimbursement process will be adversely impacted. Therefore, with a weaker European economy, Alexion's sales will be negatively impacted.
Following Brexit, companies that have major exposures in Europe were adversely impacted. Post-Brexit, BioMarin (BMRN), Celgene (CELG), and Amgen (AMGN) plunged by 8%, 4%, and 4%, respectively, on June 24, 2016.
Higher exposure to the European market caused a greater effect on these companies. In the next article, we'll have a look at Alexion's pipeline, which could support its growth in the long term despite weakness in Europe.
The stock price of any pharmaceutical or biotechnology company depends on the success or failure of the late-stage development products in its portfolio.
To diversify the risk of investing directly in Alexion Pharmaceuticals, investors can look for options such as the Health Care Select Sector SPDR ETF (XLV). XLV holds 1% in Alexion.