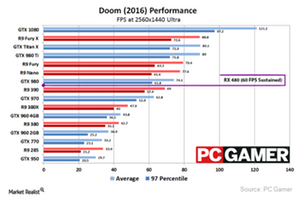 Advanced Micro Devices versus NVIDIA: A Face-Off between Polaris and Pascal GPUs
By Puja Tayal

Jun. 3 2016, Published 11:13 a.m. ET
Radeon RX 480's high performance at a low price
At a Computex 2016 press conference in Taiwan (EWT), Advanced Micro Devices (AMD) claimed that its first Polaris GPU (graphics processing unit), Radeon RX 480, will be able to deliver a similar performance as a $500 GPU, but at the low price of $199. In the past, the company has offered R9 380X and R9 390, which compete with NVIDIA's (NVDA) GeForce GTX 970 and GTX 980.
Article continues below advertisement
Radeon RX 480 versus NVIDIA's GPUs
All cards are certified for use in Facebook's (FB) Oculus Rift and HTC Vive VR (virtual reality) headsets. They have a 256-bit GDDR5 RAM (double data rate type five synchronous graphics random access memory). Radeon RX 480 GPU would be available in 4GB (gigabyte) and 8GB memory configurations, with the former priced at $199.
In terms of memory, the Radeon RX 480 4GB variant is on par with GTX 980 and 970, and the 8GB variant is on par with GTX 1070.
The Radeon RX 480 offers more than 5 TFLOPS (tera floating-point operations per second) of computing speed, higher than the GTX 980 and 970 cards. Moreover, RX 480 consumes only 150 watts of power, which is far less than the power consumed by R9 390X and on par with GTX 1070. RX 480's improved power consumption is due to Samsung (SSNLF) and GlobalFoundries' 14nm (nanometer) FinFET (fin-shaped field effect transistor) technology.
Radeon RX 480 features AMD's GCN architecture, which has been observed to be less efficient than NVIDIA's Maxwell and Pascal architecture in terms of maximum compute capability.
Better performance?
While Radeon RX 480 is on par with GTX 1070 in some areas, the GTX 1080 is superior to GTX 1070 in many areas. Hence, the GTX 1080 is priced at $600, as compared to GTX 1070's price of $379. But AMD plans to deliver similar or better performance than the GTX 1080 by using two Radeon RX480 GPUs, and it will still cost less than $500.
AMD seems to be walking straight into the same kind of price war it got into with Intel (INTC) in the processor market, but AMD's GPUs have been less efficient than NVIDIA's and the former tries to cover this drawback with lower prices.
Lower pricing is a part of AMD's "water drop" strategy. We'll explore this further in the next part.