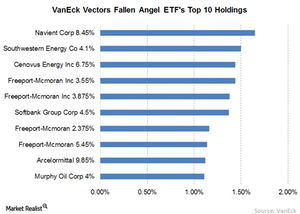 How You Can Access Fallen Angel Bonds
By VanEck

Updated
Are fallen angel bonds akin to value stock (IWD)(MOAT) in the equity (IWF)(VOO) world? If so, how?
Fallen angel bonds (ANGL) may offer potential value, as they tend to be oversold and experience forced selling leading up to their downgrade to high yield and subsequent index entrance. As such, investors in a fund concentrated in fallen angels may establish positions in bonds that could have been oversold beyond what may be considered their fair value. Bonds, on average, have historically entered the Fallen Angel Index at a discount to par.
Article continues below advertisement
Data as of March 31, 2016. Past performance is no guarantee of future performance. Index performance is not illustrative of fund performance. Please click the "Disclosures" link at the beginning of this article for descriptions of the indices referenced in this chart. Fund performance current to the most recent month end is available by visiting www.vaneck.com/etfs.
It sounds like a big part of the winning strategy is that investors become too bearish on the bonds even before the downgrade?
Yes, in part, as credit rating downgrades tend to be lagging indicators. However, large institutional investors with investment-grade mandates can contribute to a bond's sell-off as they become forced sellers. Consequently, increasing exposure to newly fallen angels can be viewed as a contrarian approach.