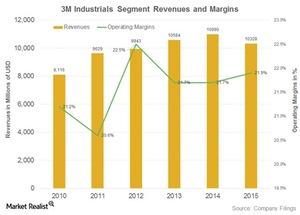 Why 3M Industrials Is a Conglomerate in Itself
Revenue and profitability
The Industrial segment is 3M Company's (MMM) largest segment. It accounted for 32%–34% of the company's total annual revenue in the 2011–2015 period.
The Industrial segment's revenue has risen from $9.6 billion in 2011 to $10.3 billion in 2015 at a compound annual growth rate (or CAGR) of 1.4%. This poor CAGR number is majorly attributable to weak industry conditions among 3M's end market customers in 2015. This led to a 9.4% fall in revenue from ~$11 billion in 2014 to $10.3 billion in 2015, the first revenue fall since 2009.
Article continues below advertisement
In the five-year period from 2011 to 2015, 3M's Industrial operating margins have ranged between 20.6% and 22.5%. Its operating margin in 2015 was 21.9%. The segment's operating income, which accounts for 30%–32% of the company's total operating income, rose from ~$2 billion in 2011 to ~$2.3 billion in 2015 at a CAGR of 2.7%.
Underlying businesses
3M's Industrial segment is a mammoth conglomerate in itself. It's all but impossible to come up with a comprehensive list of its industrial offerings. The business is better understood by classifying it into its underlying businesses. Sales figures for 2015 accompany the business names:
Tapes and Adhesives – $3.9 billion
Automotive Aftermarket – $1.5 billion
Automotive Original Equipment – $1.4 billion
Abrasive Systems – $1.4 billion
Advanced Materials – $1.1 billion
Filtration – $0.7 billion
Aerospace & Commercial Transportation – $0.3 billion
Article continues below advertisement
Revenue model
Roughly 60% of the Industrials segment comprises designed or specified products for which 3M works directly with customers such as original equipment manufacturers or their tiered suppliers. The remaining 40% are called consumables, and they're sold through distributors, dealers, and increasingly through the e-commerce medium.
Key ETFs
Investors interested in trading in the industrials space can look into the Vanguard Industrials ETF (VIS) and the Industrial Select Sector SPDR ETF (XLI). Major holdings in VIS include General Electric (GE) with a weight of 12.2%, 3M Company with a weight of 4.3%, and United Technologies (UTX) with a weight of 3.7%.