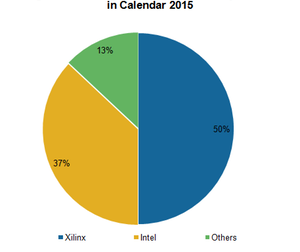 Xilinx's Stock Rises on Acquisition Rumor: Here Are the Potential Bidders
By Puja Tayal

Updated
Rumors surround Xilinx
A lot is happening around the world's largest programmable chip supplier Xilinx (XLNX). According to the Street Insider, Xilinx received an acquisition proposal worth $15 billion. Investors immediately reacted to the rumor, which sent Xilinx's stock up by 6.2% to a high of $47.7 on May 24, 2016.
Article continues below advertisement
Potential suitors for Xilinx
Many analysts believe that Broadcom (AVGO) and Qualcomm (QCOM) are potential suitors for Xilinx. Broadcom is looking to expand in the communications space, and Xilinx's key customer market is communications. The latter is actively participating in the testing and pre-deployment of 5G (fifth-generation) network.
On the other hand, Qualcomm is looking to expand in the data center market and Xilinx's FPGAs (field programmable gate array) can give the former a strong base in the data center market. Qualcomm has already partnered with Xilinx for using FPGA technology in its server chips.
Analysts view Xilinx as inappropriate
However, Cowen & Company's semi-analyst Timothy Arcuri has a different view of a potential Qualcomm-Xilinx merger. He believes that a $15 billion takeover would be a heavy price for an asset like Xilinx, which "wouldn't really move the needle for QCOM."
Arcuri stated that the company is currently transitioning to advanced technology to keep up with its competitor Intel, which recently acquired Altera. This transition entails a huge expenditure, making it a less attractive acquisition target. The right time to buy the company is when the transition is successfully implemented.
Analysts find NXPI a more lucrative target
Timothy Arcuri suggests that Qualcomm might be in a better position to acquire NXP Semiconductors (NXPI). The acquisition would help Qualcomm expand in the fast-growing automotive space. NXPI has become a dominant player in the automotive semiconductor market after the acquisition of Freescale. An NXPI acquisition would be tax efficient, as well, because its primary cash is outside the US.
The analysts' opinions failed to deter Xilinx's investor confidence, however, and the stock was hovering above $47 even three days after the rumor. Notably, The iShares Russell 1000 Value ETF (IWD) has holdings in large-cap US equities across various sectors. It has ~1.4% exposure to INTC, ~0.1% to XLNX, 0.71% to QCOM, and 0.61% to IBM.
Now let's look at the Xilinx's growth strategy and fiscal 2017 guidance.