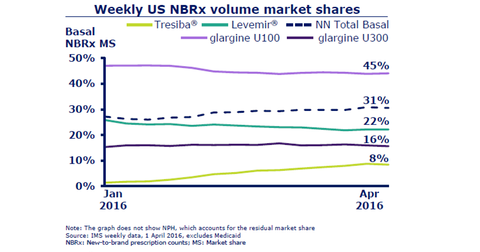 Will Novo's Modern Insulin Portfolio Fall Soon?
By Jillian Dabney

Updated
It's cannibalization for Levemir 
Levemir is the key drug in Novo's modern insulin portfolio. It earned 4.4 billion Danish krone in 1Q16. Its sales rose by 9% in local currency terms, where 50% growth came from volume and 50% came from its price increase. The drug earns ~72% of its revenue from the US market. It experienced strong growth in the United States.
With the introduction of next-generation products, there is the cannibalization of older drugs. This happened to Levemir when 60% of its share went to Tresiba. Levemir is administered once daily, whereas Tresiba has a longer half-life. This could be a reason behind patients' switching from Levemir to Tresiba. However, Novo believes that new patient additions to insulin use will be a game changer in the long run.
The drug's revenue in Europe fell following competition from Eli Lilly's (LLY) Basalgar and cannibalization following the Tresiba launch.
NovoRapid and NovoMix
In 1Q16, NovoRapid and NovoMix earned 4.6 billion krone and 2.7 billion krone, respectively. In local currency terms, NovoRapid fell by 1%, whereas NovoMix fell by 2% in 1Q16. Novo's International Operations and Chinese revenues rose by ~28% and ~18%, respectively.
As NVO's share price is quite susceptible to economy, industry, or company based events, to diversify the risk of directly investing in Novo Nordisk, investors can search for options such as the VanEck Vectors Pharmaceutical ETF (PPH).
PPH holds 5.5% and 5.5% of its assets in Bristol-Myers Squibb (BMY) and Pfizer (PFE), respectively. It holds 5.0% in Novo Nordisk.
Let's analyze why human insulin sales are falling in the next part of the series.