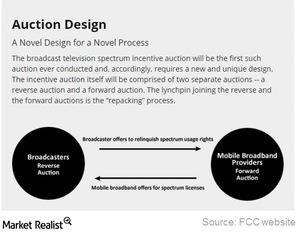 Will Comcast Enter the Wireless Network Space?
By Shirley Pelts

Updated
Comcast's deal with Verizon
Earlier this month, Comcast's (CMCSA) chairman and chief executive officer Brian Roberts told CNBC's Squawk on the Street that the company was exploring its options in the wireless network space. Speculations have been rife that Comcast is set to compete with wireless providers AT&T (T), Verizon Communications (VZ), T-Mobile (TMUS), and Sprint (S). These speculations arose when the company filed a bid to participate in the Federal Communications Commission's 600 Mhz (megahertz) broadcast television spectrum incentive auction in 2016.
The auction consists of two parts: a forward auction and a reverse auction. In the forward auction, mobile broadband providers will bid for flexible usage of wireless spectrum licenses. In the reverse auction, television broadcasters will give up their usage rights for the 600 Mhz spectrum.
Article continues below advertisement
Comcast sees value in becoming an MVNO (mobile virtual network operator) for companies such as Verizon. Comcast has renewed a 2011 agreement between itself and Verizon that would allow it to resell Verizon's wireless service. In effect, Comcast will become an MVNO for Verizon. As an MVNO, Comcast will get access to Verizon's network services at wholesale rates and will sell these services to its customers.
Comcast and mobility
Comcast's CEO Brian Roberts told CNBC that "What I would report to you is I think we have more hot spots than any company with Xfinity Wi-Fi, and we've found it to be a fantastic way to get your content. It works better on Wi-Fi,"
At the JPMorgan (JPM) Global Technology, Media and Telecom Conference this month, Comcast was again asked about its agreement with Verizon. The company stated that it believed that the agreement gave the company an opportunity to compete in the mobile-enabled services space. The company added that it is closely observing quadruple-play trends in Europe, saying "Does quad play really matter or doesn't it, we're not necessarily convinced, but U.S. will be like Europe on that score, but we're paying close attention and trying to experiment and be quiet thoughtful about it."
Quadruple-play is the bundling of high-speed Internet, television, landline, and mobile services in one package.
Comcast makes up 0.84% of the SPDR S&P 500 ETF (SPY). SPY invests 3.6% of its holdings in the computer sector.