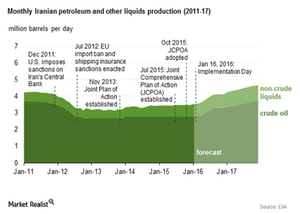 What's Next for the Crude Oil Mark in Iran?
Iranian crude oil production
Iran is the third-largest oil producer in OPEC (Organization of the Petroleum Exporting Countries). Bloomberg surveys project that Iran's crude oil production rose by 300,000 bpd (barrels per day) to 3.5 MMbpd (million barrels per day) in April 2016, as compared to the previous month.
Article continues below advertisement
Iran's crude oil exports 
Iran's crude oil production has increased by 1.3 MMbpd since January 2016. Iran was able to scale up its crude oil production due to sanctions lifted by the US. Iran's crude oil exports subsequently rose to 2 MMbpd in March 2016, and April was Iran's highest production level since December 2011. Iran's exports of crude oil to South Korea increased to 400,000 bpd in April 2016, as compared to 100,000 bpd during pre-sanction levels.
Impact
On Tuesday, May 2, 2016, Iranian Oil Minister Bijan Zanganeh reported that Iran's crude oil exports will triple their yearly amounts to South Korea. Iran will increase its crude oil production until it hits pre-sanction crude oil production levels of 4 MMbpd. This rise in crude oil production from Iran will add to the oversupplied market and will negatively affect crude oil prices. At the same time, low crude oil prices are driving oil producers to produce more to offset lower oil prices. (Read "How Are Oil Prices Squeezing OPEC Members' Budgets?" to learn more.)
Multiyear low crude oil prices impact oil and gas producers like the National Iranian Oil Company, Oasis Petroleum (OAS), Energy XXI (EXXI), Triangle Petroleum (TPLM), QEP Resources (QEP), and Denbury Resources (DNR).
ETFs and ETNs including the PowerShares DWA Energy Momentum (PXI), the United States Brent Oil (BNO), and the ProShares UltraShort Bloomberg Crude Oil ETF (SCO) are also influenced by ups and down in crude oil prices.
In the next and final part, we'll discuss crude oil price forecasts.