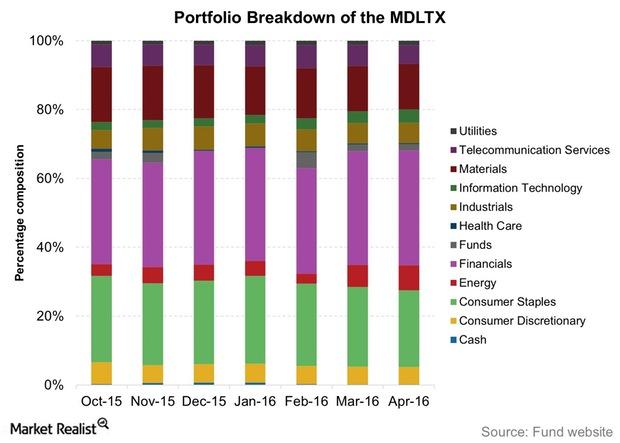 What's MDLTX's Portfolio Position Year-to-Date in 2016?
By David Ashworth

May. 9 2016, Published 2:50 p.m. ET
BlackRock Latin America Fund overview
The BlackRock Latin America Fund A (MDLTX) seeks long-term capital growth by investing "primarily in Latin American equity and debt securities."
The fund does not seek to spread its portfolio across a large number of countries in Latin America. It adopts both top-down and bottom-up research approaches in constructing its portfolio. The top-down approach lets the fund manager select potentially outperforming markets, while the bottom-up approach helps the manager select individual securities.
Article continues below advertisement
MDLTX's assets were invested across 68 holdings as of April 2016, and it was managing assets worth $190 million. As of March, its equity holdings included Banco Bradesco (BBDO), BRF (BRFS), Telefônica Brasil (VIV), Grupo Televisa (TV), and Southern Copper (SCCO). These companies made up a combined 14.3% of the fund's portfolio.
Portfolio changes in the BlackRock Latin America Fund
Financials, consumer staples, and materials stocks form the core of the fund, making up two-thirds of its assets. Financials form nearly one-third of MDLTX's portfolio. Compared to the MSCI EM Latin America Index, MDLTX is overweight in the financials, materials, and information technology sectors. Meanwhile, it's underweight in the utilities sector.
In the one-year period until April 2016, MDLTX's exposure to the financials sector fell to 30%. Much of the fall had to do with the sharp fall financial stocks witnessed. After the sector's recovery, MDLTX's fund manager reinvested in a few stocks that had earlier been liquidated. Compared to a year ago, MDLTX's exposure to consumer staples stocks is a bit higher.
While the fund's management has taken a liking to energy stocks following February 2016, it's lost interest in consumer discretionary and healthcare stocks. At one point in the past year leading up to April 2016, consumer discretionary stocks formed one-tenth of MDLTX's portfolio. Now, they form half of that.
What contributed to MDLTX's performance in the first part of 2016? Let's take a look in the next article.