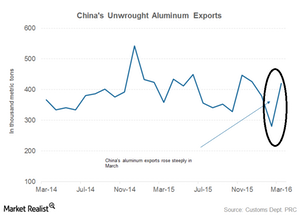 What's Century Aluminum's Outlook for the Aluminum Industry?
1Q16 call
Previously, we looked at Century Aluminum's (CENX) 1Q16 earnings. As an investor, it's also important to look at the outlook and guidance provided by company management. For commodity (FTGC) companies like Rio Tinto (RIO), Norsk Hydro (NHYDY), and BHP Billiton (BHP), the industry outlook is equally important, if not more important, than the company's position in the industry. Let's see what Century Aluminum had to say about the aluminum industry's outlook during its 1Q16 call.
Article continues below advertisement
China
According to Mike Bless, Century Aluminum's CEO, China "remains the wildcard from both a demand and a supply standpoint." According to him, China's 1Q16 aluminum consumption was slightly better than expected. However, he also pointed to the volatile demand in the first quarter due to the Chinese new year holidays.
Bless also sounded a note of caution. He said, "the market remained in a significant surplus during the first quarter and we see upwards of 1.5 tonnes ready for restart during the balance of this year. In addition to that, there are new projects that are scheduled to come on-stream. And given the shipping market price performance, we believe all of this is coming."
Our view
The massive overcapacity in China is haunting the global aluminum industry. China exported 420,000 metric tons of unwrought aluminum in March, a YoY (year-over-year) increase of 17.1%. Prior to this, Chinese aluminum exports dipped sharply in January and February, falling 12.2% and 33.8% YoY, respectively.
Higher aluminum prices only lead to more aluminum exports from China. Furthermore, the proposed capacity curtailments might not take place now as more smelters start making money at current metal prices.
Another focus point in Century Aluminum's 1Q16 call was its power supply agreements. We'll talk more about this in the next part of the series.