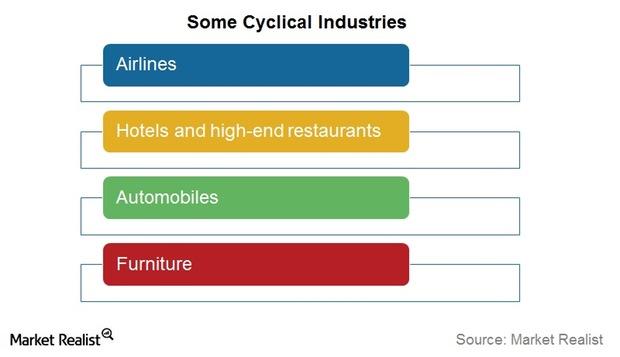 What Is Cyclical Investing?
By David Ashworth

May. 24 2016, Updated 6:28 p.m. ET
Richard Bernstein is investing in cyclicals
In an interview with CNBC's Michael Santoli, Richard Bernstein opined that the corporate profit cycle is turning for the better, following the 4Q15 trough. To him, this signaled an increase in exposure to equities. Among equities, Bernstein has become more cyclical and he is betting on the energy, materials, and financials sectors.
Article continues below advertisement
Cyclical investing
When we say that a stock is cyclical, it means that its price has a sizable correlation with the phases of the business cycle. Non-cyclical stocks, which are defensive bets, experience little to no impact from the phase of the business cycle on these stocks.
Automakers (GM) (FCAU), airline stocks (AAL) (LUV), and hotels (HLT) (MAR) are good examples of cyclical stocks. On the other hand, personal product makers (CL) (UL), companies in the tobacco industry (RAI) (PM), and drugstores (RAD) (CVS) are examples of non-cyclical stocks.
When the corporate profit cycle starts to turn for the better, then macro fund managers—who focus on top-down research—align themselves with cyclical stocks and instruments (XLY). Retail investors can invest in large-cap mutual funds that are positioned to benefit from a higher exposure to discretionary stocks (HCAIX) (FBGRX) (TRBCX) in such a phase.
Although nearly all sectors do well when the economy is booming, it does not make sense to remain invested in defensive sectors like consumer staples, utilities, and telecom services. In this event, investors could be missing out on the high growth in the cyclical consumer discretionary and energy sectors.
This leads us to wonder which sectors do well in different phases of a business cycle. Let's look at that in the next article.