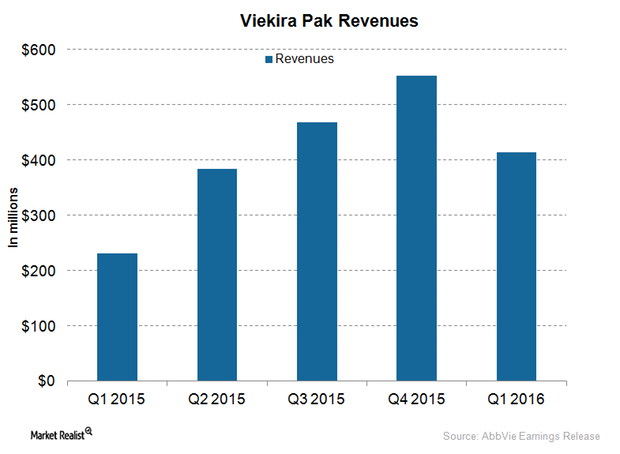 AbbVie's Viekira Pak Saw Weaker-than-Expected Performance
By Margaret Patrick

Nov. 20 2020, Updated 5:06 p.m. ET
International market
With the launch of Viekirax, a ribavirin-free drug combination for HCV (hepatitis C) genotype 1b patients, AbbVie has managed to strengthen its position in the Japanese market. The company, however, witnessed subdued performance for its HCV drugs in the US market due to increased competition. To know more about AbbVie's projections for its HCV portfolio in 2016, please refer to Pricing Changes May Negatively Affect AbbVie's 2016 HCV Revenues.
Article continues below advertisement
Viekira Pak performance
Viekira Pak managed to earn revenues worth about $414 million in 1Q16. The drug's sales in the US market, however, fell YoY (year-over-year) by about 9.3% and reached $125 million in 1Q16. This is attributed to the reduction in price as well as volumes that Viekira Pak suffered in 1Q16.
To compete effectively with HCV players such as Bristol-Myers Squibb (BMY), AbbVie (ABBV), and Gilead Sciences (GILD), Merck (MRK) introduced Zepatier in the US market at a significantly lower list price. AbbVie believed that Merck was more focused on medical exception patients or those patients who request drugs not covered by health insurers. This opinion was based on the historical trend that medical exceptions are generally higher for drugs with lower list prices.
AbbVie, however, failed to fully estimate the impact of Merck's pricing strategy. In addition to the medical exception segment, the aggressive pricing strategy also enabled Merck to capture a significant share of the Veteran Affairs market, which was originally served by AbbVie. Owing to the change in dynamics, AbbVie expects to earn about $1.6 billion from sales of Viekira Pak in 2016.
If Viekira Pak continues to witness competitive pressures in future quarters, it may affect AbbVie's share prices as well as those of the SPDR S&P Dividend ETF (SDY). AbbVie makes up about 1.2% of SDY's total portfolio holdings.
In the next part, we'll explore the performance of AbbVie's CLL (chronic lymphocytic leukemia) drugs, Imbruvica and Venclexta, in 1Q16