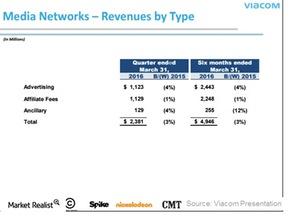 Viacom's Positive Outlook for Its Affiliate Fees
Affiliate fees
Viacom's (VIAB) Media Networks segment had affiliate fees of $1.1 billion in fiscal 2Q16, a decline of 1% over fiscal 2Q15. Viacom's affiliate fees declined by 2% in the United States in fiscal 2Q16. The company stated that one of the reasons for the decline was a "rate realignment with a major distributor" and "slight declines in distribution."
However, the company expects revenues from SVOD (subscription video on demand) services such as Netflix (NFLX) to be significant in the second half of fiscal 2016. Viacom also stated that its recent carriage renewal agreement with Dish Network (DISH) was renewed on favorable terms for Viacom. Viacom expects its affiliate fees to grow in mid-single digits in 2017 since the company has closed in on long-term deals with its distributors.
Article continues below advertisement
Viacom also stated in its earnings call, "In terms of affiliate revenues, quarterly affiliate revenue will fluctuate according to the timing of transaction and the recognition of revenue related to certain distribution agreements which are tied to product availability. For the FY16, we expect growth in affiliate revenues to be in the low mid single-digit range."
Viacom believes that renewal packaging is changing
Viacom stated at a Deutsche Bank (DB) investor conference early last month that as its agreements with MVPDs (multichannel video programming distributors) such as Dish come up for renewal, there will be a need to provide packaging flexibility to pay-TV operators. It said that "for the young audiences, you need the better consumer interface. You need to have the ability to watch where you want to watch on multiple devices. You have to have good on-demand capability. So that's where it's going."
Viacom further stated, "Its distributors are looking to get people into the ecosystem and then sell them into the richer packages. That's where the better economic opportunity is for everybody."
Viacom accounts for 0.29% of the PowerShares QQQ Trust Series 1 ETF (QQQ). If you're interested in exposure to the television sector, note that QQQ has 4.2% exposure there.
Next, let's see how Viacom is doing on the sale of its minority stake in Paramount.