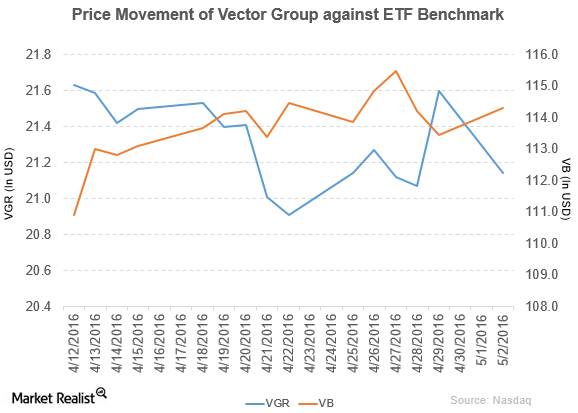 Vector Group Is Issuing 7.75% Senior Secured Notes Due in 2021
Price movement of Vector Group
Vector Group (VGR) has a market cap of $2.6 billion. VGR fell by 2.1% to close at $21.14 per share on May 2, 2016. The stock's weekly, monthly, and year-to-date (or YTD) price movements were 0.0%, -6.8%, and -8.8%, respectively, as of May 2.
This means that VGR is trading 1.8% below its 20-day moving average, 4.8% below its 50-day moving average, and 6.3% below its 200-day moving average.
Article continues below advertisement
Related ETF and peers
The Vanguard Small-Cap ETF (VB) invests 0.06% of its holdings in Vector Group. This ETF tracks the CRSP US Small Cap Index. The market-cap-weighted index includes the bottom 2%–15% of the investable universe. The YTD price movement of VB was 2.8% as of April 29, 2016.
The market caps of Vector Group's competitors are as follows:
Vector Group offering senior secured notes
In a press release on May 2, 2016, the company noted, "Vector Group has commenced an offer to issue and sell an additional $200 million aggregate principal amount of 7.750% senior secured notes due 2021. The offering is expected to price on May 3, 2016, and close on May 9, 2016. The notes will have the same terms except issue date and purchase price and will be treated as the same series issued by the company on February 12, 2013, and on April 15, 2014.
Article continues below advertisement
"The notes will bear interest at a rate of 7.750% per year, payable semi-annually in arrears on February 15 and August 15 of each year, commencing on August 15, 2016. The notes will mature on February 15, 2021, unless earlier repurchased or redeemed in accordance with their terms. The notes will be fully and unconditionally guaranteed by all of the wholly-owned domestic subsidiaries of the company that are engaged in the conduct of the company's cigarette businesses."
Performance of Vector Group in fiscal 1Q16
Vector Group reported fiscal 1Q16 total revenues of $380.8 million, a rise of 5.5% compared to total revenues of $360.8 million in fiscal 1Q15. Revenue from the Tobacco and E-cigarettes segments fell by 3.1% and 90.9%, respectively.
Revenue from the Real Estate segment rose by 20.7% in fiscal 1Q16 compared to fiscal 1Q15. It reported litigation, settlement, and judgment expenses and restructuring charges of $2.4 million and $41,000 respectively, in fiscal 1Q16.
Its net income and EPS (earnings per share) fell to $19.3 million and $0.16, respectively, in fiscal 1Q16, compared to $21.2 million and $0.18, respectively, in fiscal 1Q15. It reported pro forma adjusted EBITDA (earnings before interest, tax, depreciation, and amortization) of $69.6 million in fiscal 1Q16, an increase of 35.7% compared to fiscal 1Q15.
Next, let's take a look at Newell Brands.