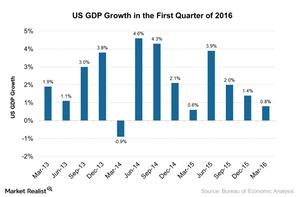 US GDP Growth Stood at 0.8%: What Does It Indicate?
By Sarah Sands

Updated
US GDP growth in 1Q16
The US GDP (gross domestic product) growth stood at 0.8% in 1Q16. It's a better figure than the 0.5% improvement initially reported by the BEA (U.S. Bureau of Economic Analysis). It was the second GDP report provided by the BEA on May 27, 2016. However, it's the worst performance since 2015.
Article continues below advertisement
Parameters of the GDP growth
In 1Q16, economic growth in the US (VFINX) (IVV) (VOO) was mainly driven by improved consumption and increased spending on homebuilding. However, business inventories showed steady growth. Government investment also rebounded in the first quarter. It rose to 0.6% in 1Q16 after falling 8.4% in 4Q15.
The US economy has been hurt by sluggish global (ACWI) (VTI) growth. The export growth in the US has been impacted by the strong dollar (UUP). Lower crude oil prices also hampered oil and gas companies' performance. In recent months, the economy regained some strength due to improved economic indicators. US retail sales rose to 1.3% in April—the largest rise in the past year. US retail sales fell 0.3% in March. Industrial production and the consumer price index improved in April. This showed that the US economy might pick up in the second quarter.
In the next part, we'll analyze how the US manufacturing purchasing managers' index performed in May.