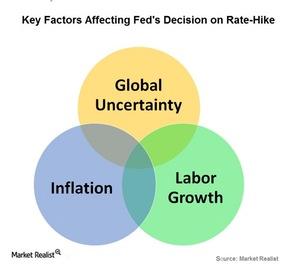 Is the US Economy Ready for Another Rate Hike?
By Lynn Noah

Nov. 20 2020, Updated 2:09 p.m. ET
Is the US economy ready?
Economic data released for April painted a brighter picture of the US economy. The US labor market and wage growth are improving. This could lead to people spending more, especially on discretionary items. The strong improvement in retail sales (WMT) (TGT) (M) in April indicates there was a rise in consumer spending, which is an important driver for economic growth.
A rise in demand from the masses along with stability in oil prices would help stoke inflation. The manufacturing sector has also expanded, indicating that the US industrial sector is improving. It's been impacted by a strong dollar and sluggish global demand. Meanwhile, the housing sector, which creates employment opportunities, has also strengthened. These domestic factors could give confidence to the Federal Reserve to go ahead with another rate hike.
Article continues below advertisement
Global uncertainty
On June 23, 2016, Britain will vote on whether to leave the European Union or stay. If it decides to leave the European Union, there would be a political earthquake in Europe, and tremors would be felt around the globe. That would also have some impact on the Fed's possible rate-hike decision in June. The Fed could wait to announce its rate hike either in July or September after analyzing the consequences of Britain's referendum. But Jeffrey Gundlach, DoubleLine's chief executive officer, doesn't see the United Kingdom exiting the European Union (VGK) (HEDJ) (FEZ) (EZU).
Meanwhile, the Chinese economy has slowed down after showing signs of stabilization in the first quarter. The economy has been impacted the worst by the global slowdown, and thus its trading partners are feeling the heat. China's decision on an interest rate policy would also impact the Fed's decision.
Global factors may deter the Fed from announcing its next rate hike in June. But July's meeting still raises the likelihood of a hike.
Investor takeaways
With the US economy gearing itself up for the another rate hike, investors are investing in short-term Treasury securities (OPGVX) (SHV). The price of those will fall less in value when the interest rate rises due to the inverse relationship between price and yields.
With the US economic engine chugging, inflation could also rise, making it attractive for investors to invest in Treasury Inflation-Protected Securities (or TIPS). These include the iShares TIPS Bond (TIP), the Fidelity Inflation-Protected Bond (FINPX), and the SPDR Barclays 0-5 Year TIPS ETF (SIPE).