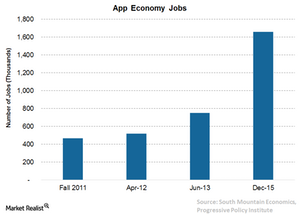 What's behind the US Economy's Remarkable Labor Market Strength?
By Rick Rieder

May. 15 2016, Updated 10:06 a.m. ET
In recent years, the U.S. economy has operated at much better levels than many market watchers gave it credit for. It has displayed quite remarkable labor market strength considering the secular headwinds to growth, such as an aging demographic, and it has been growing much faster than traditional metrics depict. This is because, as I've noted before, new technologies provide services at a much lower cost, and deliver efficiencies and productivity enhancements that are not captured in traditional economic data.
Article continues below advertisement
Market Realist – New technologies are building efficiencies and productivity enhancements
As we discussed in the previous part of this series, the US labor market has shown tremendous resilience amid concerns over various issues, like aging demographics. The aging population has a huge social and economic impact—like the lower supply of skilled labor and shifting demand from the physical assets to services like healthcare (IYH). These changes affect broader economic growth. Despite these concerns, the economy has generally performed well in recent years.
This performance is due to technological (IYW) advancements bringing greater efficiencies to businesses at much lower costs. One of the most prominent effects of technology is on the asset side of the balance sheet. Many technology-driven companies use far fewer assets than their traditional counterparts in order to generate higher returns. Technology helps companies maintain lower inventories as well as minimize operating costs. This phenomenon is visible not only in the industrial sector but also in the services sector.
Article continues below advertisement
Technology (IGM) is not only one of the fastest-growing industries. It has also created millions of jobs. It's an important enabler of innovative product development. For example, technology has led to the emergence of the new app economy, creating new jobs. A recent report from the Washington, DC, based Progressive Policy Institute said that the United States had 1.7 million app economy jobs in 2015—up from 750,000 in 2013.
Plus, technology (IXN) has been instrumental in boosting labor productivity compared to capital. Productivity benefits are most visible in the education and healthcare sectors because expansion there involves costly infrastructure. For example, in the healthcare sector (IHI)(IHE), innovative intelligent technology can tremendously help diagnose patients. Technology allows doctors to diagnose multiple patients more effectively at lower costs. These kinds of productivity benefits aren't fully captured in traditional productivity measurement metrics.