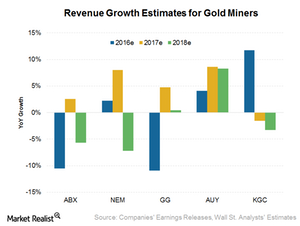 Is There an Upside to Analysts' Estimates for Gold Miners?
By Anuradha Garg

Updated
Upward revision cycle
We could see an upward earnings revision cycle over the next few months as analysts get comfortable with the higher gold price environment and revise their earnings to reflect this. Both earnings and margins should rise with the increasing gold prices and miners' continued focus on lowering costs wherever possible. Investors should, however, note that Fed rate hike expectations are still the single most important variable impacting gold prices (GLD). Thus, a more hawkish Fed stance could lead to a short-to-medium-term downside to gold prices.
Article continues below advertisement
Estimates for revenue
Analysts are estimating a 10% decline in revenues year-over-year (or YoY) for Barrick Gold (ABX) in 2016. This is mainly due to its lower production due to asset sales. Its production profile fell for 2018 onwards as well, which explains the lower revenue estimates. Goldcorp's revenue estimates also imply a decline of 11% YoY in 2016. This is mainly due to the company's guidance cut for production. Analysts expect Yamana Gold's (AUY) revenues to grow by 4%, 9%, and 8%, in 2016, 2017, and 2018, respectively. While Kinross Gold's (KGC) revenues are estimated to grow by 12% in 2016, the company is projected to see a 2017 and 2018 decline of 2% and 3%, respectively. Kinross's recent acquisitions have improved the production profile in 2016 while its organic growth shouldn't take off until the Tasiast Expansion project comes online.
EBITDA margin forecasts
The EBITDA margin forecasts are higher for 2016 as compared to 2015 across the board. This is due to higher gold price estimates for 2016. The margin estimates for Barrick are the highest among senior gold miners because of its lower cash costs, as the company has one of the best assets in the industry. Its estimated EBITDA margin for 2016 is 44%, followed by Goldcorp with margin estimates of 40%. Yamana has an EBITDA margin estimate of 38.5% while Newmont Mining (NEM) has an estimate of 37%. Kinross has the lowest margin estimate of 35% due to its higher costs.