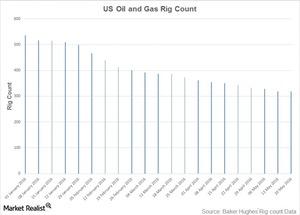 Understanding the Key Economic Indicators in Construction and Energy
By Shannon Black

Jun. 2 2016, Updated 5:04 p.m. ET
Construction indicators
While the economic indicators show a continued upturn in the construction industry, equipment manufacturers have not seen any benefits coming their way. Housing starts are expected to stand just below 1.2 million units in 2016 and overall construction investment is expected to rise by 3.2%. Government construction investment is expected to grow by 4.1%.
These are encouraging figures, but the mix of US housing starts are skewed toward multi-family homes, which require fewer earth-moving equipment.
Article continues below advertisement
US oil and gas rig counts fall
Weak conditions in the oil and gas industry continue to be the biggest contributors to equipment demand declines, as used equipment in energy producing regions are getting redeployed to other end markets.
By consequence, rental utilization rates for construction equipment, which are calculated by dividing the annual rental revenue by acquisition costs, continued to decline in the industry. The Baker Hughes data above shows the steep fall of US oil and gas rig counts, from 536 in the beginning of 2016 to 318 by May 20—a 41% drop.
Deere Construction & Forestry forecast
Deere (DE) now expects its Construction & Forestry segmental sales to drop 13% in fiscal 2016, as compared to its previous forecast of an 11% decline. Due to competitive pressures and a glut of used equipment, manufacturers are being forced to offer steep sales incentives. Operating margins in construction and forestry are now expected to be around 6% for fiscal 2016, as compared to ~8.9% in fiscal 2015.