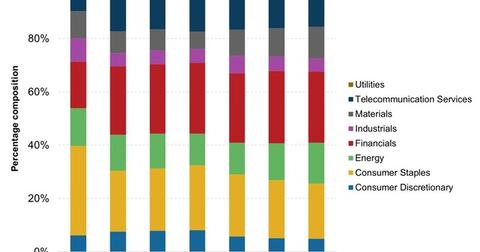 How Is UBPIX's Portfolio Positioned Year-to-Date in 2016?
By David Ashworth

Updated
UltraLatin America ProFund overview
The UltraLatin America ProFund Class A (UBPIX) seeks "daily investment results, before fees and expenses that are 2x the return of the BNY Mellon Latin America 35 ADR Index for a single day." This means that the funds aims at single-day returns only, and these returns are two times those of the underlying index.
For instance, if the index rises by 2%, the fund will have returns close to 4%. The same applies for times when the index reports negative returns: The fund will fall nearly twice its value, adjusted for fees and expenses.
The fund's literature states that "For periods longer than a single day, the Fund will lose money when the level of the Index is flat, and it is possible that the Fund will lose money even if the level of the Index rises."
This kind of a fund is known as a leveraged fund. By nature, these funds are highly risky and are not suitable for conservative investors. Even aggressive investors should use caution while investing in these funds.
Article continues below advertisement
The fund's assets were invested across 35 stocks as of April 2016. It was managing assets worth $31.0 million. As of January, its equity holdings included Banco de Chile (BCH), Bancolombia (CIB), Embraer (ERJ), YPF (YPF), and Empresa Nacional de Electricidad (EOC). These companies made up a combined 9.3% of UBPIX's portfolio.
Portfolio changes in the UltraLatin America ProFund
For this analysis, we will be considering UBPIX's holdings as of January 2016, as that is the latest available sectoral breakdown for the fund. The fund's holdings post-January reflect valuation-driven changes to its portfolio, not its actual holdings.
The fund invests in ADRs (American depository receipts). Note that UBPIX is an index-tracking fund. When we talk about its portfolio details, we're essentially discussing the underlying index.
The financials, consumer staples, telecommunications services, and energy sectors form the core of the fund. These four sectors combined form 72% of UBPIX's portfolio, with financials forming one-quarter of its assets. The fund is not invested in the information technology or healthcare sectors.
Some sectors saw their compositions change quite a bit in the one-year period ended April 2016. A year ago, consumer staples formed 30% of UBPIX's assets, and it was the fund's largest sector. At that time, financials formed less than one-fifth of the fund's assets. At present, these two sectors have switched positions.
In the past year, the fund's management has increased its exposure to telecommunications services. However, its present exposure is less than it was until April. The utilities sector also saw its share fall in UBPIX, but it has risen again recently.
How did the fund fare in the first part of 2016? Let's look at that in the next article.