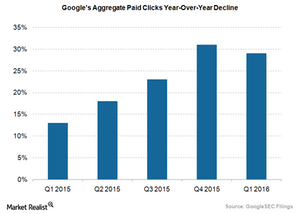 What Trends Are We Seeing with Mobile and Desktop Ads on Google?
By Puneet Sikka

Updated
Number of Google ad clicks have grown by 30%
In the previous part of this series, we discussed how Google's (GOOG) cost-per-click continue to decline and what initiatives it is taking to stop this decline. Despite this decline, Google is managing to grow its advertising revenues at a healthy rate. It grew by a 17% year-over-year rate in the last quarter.
The main reason for this growth is the rapid growth in aggregate clicks that Google is experiencing for its ads. As the chart below shows, this growth has been around 30% in the last two quarters.
Google owes this growth in the number of clicks to the increasing number of users visits on mobile, both for Google Search and YouTube. However, mobile ad rates have declined because of a number of factors such as geographic mix and property mix.
Article continues below advertisement
Geographic and property mix
With respect to geographic mix, Google earns more than half of its revenues from international markets, with revenues in the UK (EWU) growing by 15% in the last quarter. This explains why Google has been impacted by the strong US dollar (UUP) in the last few quarters.
As an example, in the quarter ending in March, currency issues had a negative impact of $593 million on Google's revenues after taking into consideration the benefit of its hedging program. This clearly had a negative impact on the overall ad rates for Google.
Another factor is the property mix under which Google's two properties—Search and YouTube—have vast differences in the ad rates. The cost-per-click associated with YouTube continues to be less than the ad rates for Google.
YouTube's TrueView ads
Google maintains that YouTube's TrueView ads are somewhat responsible for falling ad rates. TrueView ads are in-stream ads where an advertiser's video ad plays automatically before the start of a YouTube video.
To give you an idea of the ad monetization rates, Google ads' ARPU (average revenue per user) was around $45 in 1Q14. For Facebook (FB), this metric was $7.20. It was $3.60 for Twitter (TWTR), according to a report from Kleiner Perkins Caufield Byers.
Desktop ads
On the other hand, Google made some changes to how its ads work on desktops. According to Google, "In terms of the desktop format change, so we had a modest benefit from that change where, just to be clear for all, we reduced the ad load by removing ads on the right-side of the screen while adding a fourth ad slot for highly commercial queries in the aggregate. That resulted in a cleaner, more useful, presentation and improved user experience. It was a modest impact, but additive."