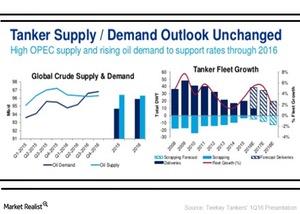 What Is Teekay Tankers' Outlook for the Crude Tanker Industry?
Market insights by Teekay
In its first-quarter conference call, Teekay Tankers (TNK) gave insights on the tanker market, how it fared in the first quarter, and the outlook for the market in 2016. These insights will be helpful to assess the outlook for Teekay Tankers and other crude (DBO) tanker companies such as Nordic American Tankers (NAT), Tsakos Energy Navigation (TNP), Frontline (FRO), DHT Holdings (DHT), and Euronav (EURN).
Article continues below advertisement
Tanker industry: 1Q16
The first quarter remained well supported by a strong oil supply and demand. However, many one-time factors led to a quarter-over-quarter decline in tanker rates. The first quarter was a maintenance period for many refineries, with maintenance postponed from 2015 due to strong refining margins. A mild winter in the Northern Hemisphere and rising bunker costs due to rising oil prices also pulled down tanker rates.
Tanker outlook: 2016
In its first-quarter conference call, Teekay Tankers gave insights on the tanker industry in 2016. Teekay believes oil market fundamentals will continue to support the crude tanker demand.
OPEC (

Organization of the Petroleum Exporting Countries)

oil production remains near record highs. The breakdown of recent talks in Doha between OPEC and non-OPEC producers will likely result in the oil supply remaining at elevated levels in the near term.
US crude oil production recently fell below 9 million barrels per day for the first time since October 2014. This slowdown led to an increase in US crude oil imports. Also, the lift of the crude oil export ban resulted in the first few export cargoes leaving the United States.
Global oil demand is forecast to grow by 1.2 million barrels per day in 2016. At the same time, relatively low oil prices encourage strategic stock and commercial stockpiling of oil.