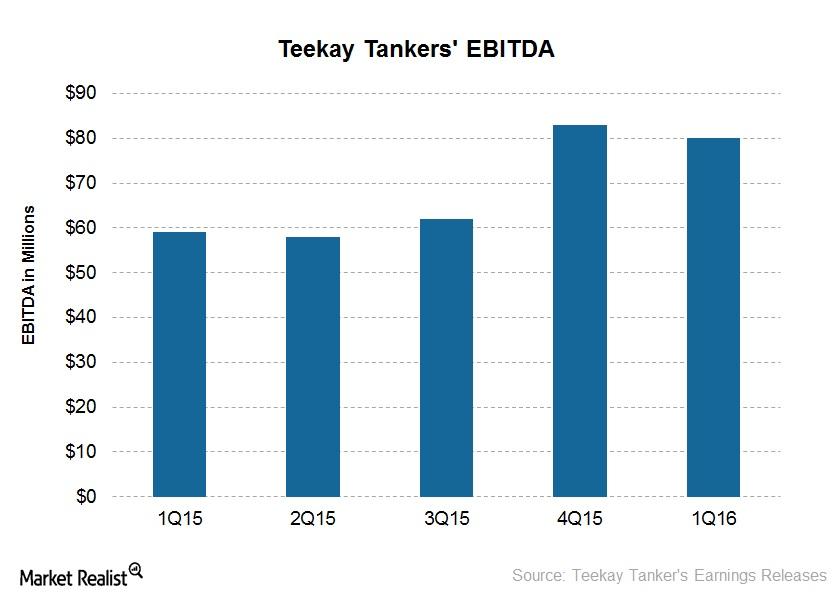 Teekay Tankers' Earnings: How Do They Compare?
By Sue Goodridge

Nov. 20 2020, Updated 5:09 p.m. ET
Article overview
In the previous two articles, we analyzed Teekay Tankers' (TNK) revenue and costs. In this article, we'll see where the company's EBITDA (earnings before interest, tax, depreciation, and amortization) are heading.
Article continues below advertisement
EBITDA
Crude tanker companies have high fixed operating costs. High fixed costs prove rewarding when revenues are increasing. A company with high fixed costs will see its profits rise by a higher percentage when its revenue is trending upward and vice versa.
In the first quarter, TNK's EBITDA fell to $80.9 million, from $83.9 million in the previous quarter. The 1Q16 EBITDA were 50% higher than 1Q15's EBITDA of $54 million.
Why look at EBITDA?
A company's financial performance is indicated by its EBITDA. The metric tells us the operating profit of a company. Crude tanker companies are highly capital intensive and have high non-cash costs including depreciation. For this reason, it's important to assess the performance of these companies based on EBITDA. Also, companies are generally valued based on their EV-to-EBITDA (enterprise value to earnings before interest, tax, depreciation, and amortization) multiples.
Article continues below advertisement
EBITDA margin
TNK's EBITDA margin for 1Q16 is 49.1%, down from 49.7% in the previous quarter and 51.9% in 1Q15. Teekay LNG Partners (TGP) and Teekay Offshore Partners (TOO) have EBITDA margins of 42.3% and 53.2%, respectively. TNK's peers' EBITDA margins are as follows:
Investors interested in a broad exposure to industrials could invest in the SPDR Dow Jones Industrial Average ETF (DIA).
EBITDA estimates
Wall Street analysts estimate that TNK's EBITDA will fall further, by 9.6% quarter-over-quarter to $73.1 million in the second quarter of 2016. In 3Q16, analysts forecast a rise and predict EBITDA to be $76 million.