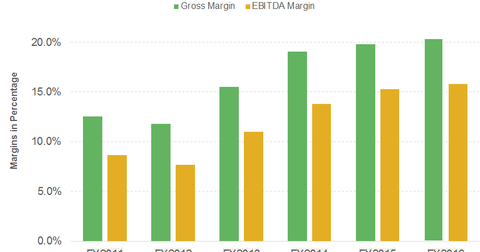 Could a Strengthening Japanese Yen Hurt Toyota's Profitability?
By Jitendra Parashar

Jun. 1 2016, Updated 1:06 p.m. ET
Toyota's profitability
Toyota Motor Corporation (TM) is known to have industry-leading margins. The company's profitability is much higher than those of its US peers, including General Motors (GM) and Ford (F).
Because it is a Japanese automaker, Toyota's profitability increased with the recent weakness in the Japanese yen. However, now that the Japanese currency has turned around and is strengthening against the world's major currencies, it could be a challenge for Toyota to protect its high margins outside its home market. Now, let's take a closer look at its recent margins.
Article continues below advertisement
Recent trend in Toyota's margins
In fiscal 2016 (April 1, 2015–March 31, 2016), Toyota's gross margin was 20.4%, much higher than its 12% gross margins posted in fiscal 2010. During this period, the company's EBITDA (earnings before interest, tax, depreciation, and amortization) margin also expanded to 15.8% from just 8.2% in fiscal 2010.
Now, let's look at some key factors that helped the company to expand its margins significantly in the last few years.
Favorable currency fluctuation
As we noted earlier in this series, Toyota reports its earnings in Japanese yen. However, its largest single market is North America and not Japan.
The considerable weakness in the Japanese yen in the last several years gave a competitive advantage to Toyota over other US automakers. The company's revenues from North America that are earned in US dollars translated into more Japanese yen.
However, in the most recent fiscal year (April 1, 2015–March 31, 2016), the Japanese yen has strengthened by 5.7% against the US dollar. This is what is likely to be a cause of concern for Toyota and hurt its profitability going forward. This trend in currency is also likely to hurt the profitability of other Japanese automakers (XLY) like Honda (HMC) and Nissan.
Cost-cutting measures
After the auto industry crisis of 2008–2009, Toyota took several measures to trim its fixed costs. These measures included improving manufacturing efficiencies by the implementation of the Just-in-Time method in its global plants.
As a result, the company's fixed costs were minimized, boosting Toyota's profitability. These measures should continue to support the positive trend in the company's margins in the coming years as well.
Toyota also helps its customers to purchase vehicles through its Financial Services arm. We'll take a look at this segment in the next article of this series.