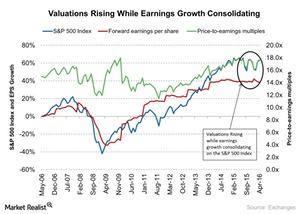 Stanley Druckenmiller: Why the Bull Market Is Exhausting Itself
By Sarah Sands

Updated
Stanley Druckenmiller's take on the current investment environment
On Wednesday, May 4, 2016, at the Sohn Investment Conference in New York, chair and CEO of the Duquesne Family Office and billionaire investor, Stanley Druckenmiller, talked about the current investment environment. He explained why he sees warning signs for the global market (ACWI) (VTI) (VUE), why he's bearish on China's (FXI) (YINN) (ASHR) economy, why he doesn't agree with the Fed's current stance, and what his bullish bets are.
Article continues below advertisement
The bull market is exhausting itself
Druckenmiller declared, "The bull market is exhausting itself." He believes that the Federal Reserve is mainly responsible for this phenomenon. By maintaining the interest rates too low, the Fed is "raising the odds of the economic tail risk they are trying to avoid," he said. He also pointed out that the Fed has borrowed more from future consumption than ever. This situation is causing the unpredictability in the market.
Higher valuation is also playing an important role in the current situation. The higher price-to-earnings multiples are indicating that the prices are going up due to the easy money available in the economy while the corporate earnings are not supporting the trend. The corporate earnings provided stagnant growth in the last three-year period. Read Why Equity Valuations Need to Adjust, Not Collapse to find out more about valuations of the S&P 500 Index.
In the current scenario, the S&P 500 Index (SPY) (SPXL) is trading at a price-to-earnings multiple of 17.6x. However, the earnings growth is not showing any supportive trend. Earnings growth is consolidating at that level and signaling that this market movement is mainly due to the availability of cheap money in the economy. Companies are using the cheap money to buy back their shares and share prices are going up. Read Share Buybacks: Lower Valuation or Cheap Capital? to know more about what's driving the share buyback process.
All these factors are together showing that the bull market is exhausting itself. Next, we'll analyze why Druckenmiller sees similarities between the current investment scenario and the period before the 2008 credit crisis.